crap strat makeover
ok this is the guitar i have now. pretty much. no name strat copy.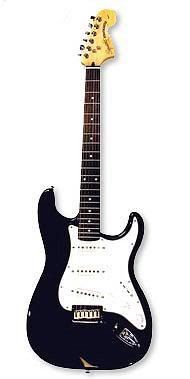 i was wanted to change the pickguard and get fancy pickups to make it look something like this
....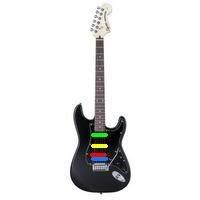 i did it in paint. horrah
uh so yer. would it be worth the effort and money?
well nothing there is goin to make it a better sounding or playing guitar, your just changing the aesthetics. so it's up to you, if you'r willing to spend the money then go for it.

Join date: Dec 2005
20

IQ
looks pretty cool, ur adding a humbucker?

Join date: Apr 2006
40

IQ
depends if you're just going to get new pick up covers or if you're gettin completely new pickups for it

Join date: Sep 2005
30

IQ
It'll just look cooler. That's it.
ill get new pickups. very good ones so the sound would improve right?

Join date: Sep 2006
10

IQ
what wood is the body? if it isn't plywood it may be worth it, also, make sure its routed for that humbucker, and swineheads do fancy colours, but cost a bomb, they may improve the sound a bit, but it'll still play the same, new tuners and bridge may improve tuning stability though...
just get white out and make coooooool paterns.

Then set it a light
haha

its a cheap guitar but plays well. just sounds pretty average. tunings good and all that but ill probably replace those later

the neck is kinda dodgy. any hope in replacing that successfully?
zomfg dont make the pickups rainbow >_> make them all red <_< twill look sickulay
Save up for a better guitar.
Save up for a better guitar.
Then Set it on Fire!!!
Then read Alfi_d's signature

hahh

i am saving up for a better guitar. and it shall be awsome. i just want to make this one better. and ill end up taking it to school for music since it wont matter if it gets lost/stolen

thanks for ur oppinions guys

Join date: Jul 2006
10

IQ
putting in new pickups makes a world of difference, which i did 2 my copy strat, dunno bout fancy colours tho...
Rainbow Gaybar picups FTW

putting in new pickups makes a world of difference, which i did 2 my copy strat, dunno bout fancy colours tho...
Yeah, I'm pretty sure the Indiana I did it too had a solid body but it may've been two or three ply, and it sounds great now (with Lace Sensor pickups in it). Though I got lucky and scored those pretty cheap on eBay. Normally you have to pay out the ass for them, and then you end up with tones that you weren't after and would be all pissed off about.
As for new pickups I suggest Mighty Mite Alnicos (if you're after a strat sound) or Mighty Mite Double Rails (if you're after hevier tones). I haven't tried them but the reviews are all highly positive and they're cheap as dirt, which basically makes them perfect for an off-brand crap guitar upgrade. Unfortunently I think you'd have to buy covers for them to make them any color other than black or white.