How many Kramer Owners Lovers and Fans do we got here?
Just a question- it seems like they are making quite a comeback
Kramer Guitars

Join date: May 2006
90

IQ
I love the 80's.... I love the fact that the name of the guitar is that of a Seinfeld character.... I love it all. Musicman, Kramer, Hamer, Charvel.... all good, man.
Not a fan of modern Kramers, the few of the new ones I tried felt just like all the other cheapo strat rip offs. The ones from 80's are to die for, though. I wish I had one

anyone previously own one?
I've played a vintage Stagemaster Deluxe for about half a year - was lucky enough to pick it up in a pawn shop (that was the first time I've even heard of Kramers), had to sell it later though when I found out it's real value, since I was going through a bit of a rough time at the moment... Hoping to get another one of these at some point.

Do you have any experience with modern Kramers, do they have any models that are comparable to those from 80's these days?
I have a modern kramer from around 2001 that is pretty awesome, it compares with most other mid-range set necks like schecters and ltd's(I like it more than a schecter, but maybe not quite as much as an ltd 1000 series).

It's got duncans and an original floyd, plus it just plays really nice.
Last edited by 1fine69 at Jan 9, 2007,
I've never had one, but I like Superstrats in general, and wouldn't mind one.

I thought they were pwnt by Gibson and were only sold through the MusicYo website. Good to see them back, though.
Yeah Kramers rock! I love my baretta in all of it's 80s glory, but it is a tad bright, maybe Joe Barden pickups were a bad choice?...
hey i really lik ethe new one i got. its actually a really good bang for ur buck.
her is a picture.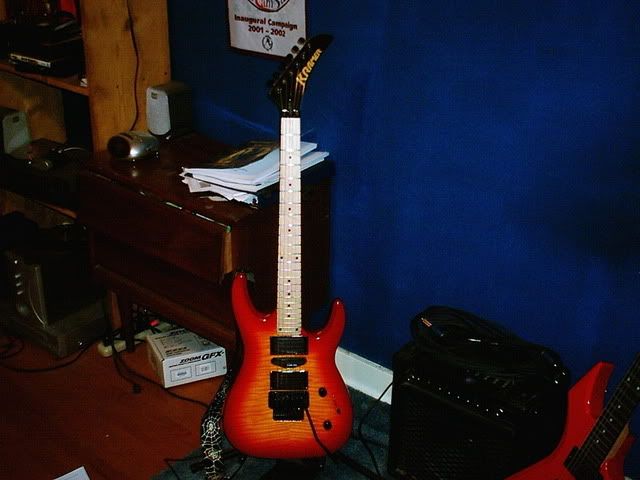 Join date: Apr 2004
180

IQ
I've got an old 80s Kramer that I am repainting for an art project, then probably reassembling with a Floyd Rose II and a Bill Lawrence in the bridge. It's only one of the cheaper ones anyway, and I might just keep the body and sell the rest - I'm not sure at the moment.

Join date: Oct 2006
122

IQ
I bet they are good, but my 1986 Striker 600st is the worst thing I've ever played.

Can't hold it's tuning at all, the switches are sunken into the body, and a circuit must've blown, because the gain is like bees in my ear.
Check out Gary Kramer's latest design at
Gary Kramer Guitars
. I do not believe he's associated with any of the latest batch of guitars from Gibson.
Regards,
Rob
^