Lower the strings
I am new to electric guitars so I'ts hard for me figure out how to lower action(i think this is the term ) Where can I find any video tutorial os any other kinds of information about that. I have a Peavey Predator strat type guitar.
lower action? are you talking about tuning the strings to lower notes? like dropped d or something?
I think i used the wrong term)...to make the strings closer to the fretboard, thats what i meant..sorry
aha okay. are they just generally too far away from the fretboard or do u want them closer?? it should have something about it in the guitar manual if it came with one. i know alot of them dont come with one very often =/

Join date: May 2006
10

IQ
no u didnt use the rong term
lowering the strings tothe fretboard is lowering the action
all u have to do is lower the bridge so the two screws on the side of ur trem or bridge just kinda lossen them aand it lowers the bridge like ur not losening them but it lowers the bridge
there should be adjustment screws on the bridge but if youre new you may want someone else to do it
they are generally far , the neck is a little bent... can i do the same thing as i do on the acoustic when i want to lower them..like adjust the neck..make it more straight .

Join date: Nov 2006
195

IQ
hmm i don't know. this kind of thing is a lot easier with SG type guitars
be careful how low or youll get fret buzz or bad sound
I'm not sure where to get a video, but it depends on what type of bridge you have... and you used the right term, Lowering the action, what Ashley was talking about was Drop Tuning...
Wait, are you trying to lower the strings or fix your truss rod(straighten the neck)?
nooooooooooooooooooooo dont try to straighten the neck take it too a proffessional for gods sake man
Yea, I wouldn't suggest doing that (straightening the neck) if your new to this stuff...

Join date: May 2006
10

IQ
yea ashley was anwsering a post she didnt know anything about which is dumb

when u lower ur action u might have to adjust intonation but u probably wont i never have had to,when u adjust ur trus rod becarful if u have to get someone who nows how to do it cause if u do it rong u will **** up ur guitar
Alright, if you have a Floyd Rose system, there are two screws that the bridge pivots on, tighten both of them to lower the action, loosen them to raise the action... Make sure you do them about equal so that one side isn't a lot lower then the other...
wolfdrarrigan, can you post a picture of what you are talking about please)
Yup, but I can't find a nice picture of a system that is installed, so you will have to do a little bit of imagining...
... Ok, on the top... on the far left and right, there are semi circles that are missing, those are where the screws will be... I'll keep looking to see if I can find a better picture...
EDIT: Ok, here is a better picture of one installed...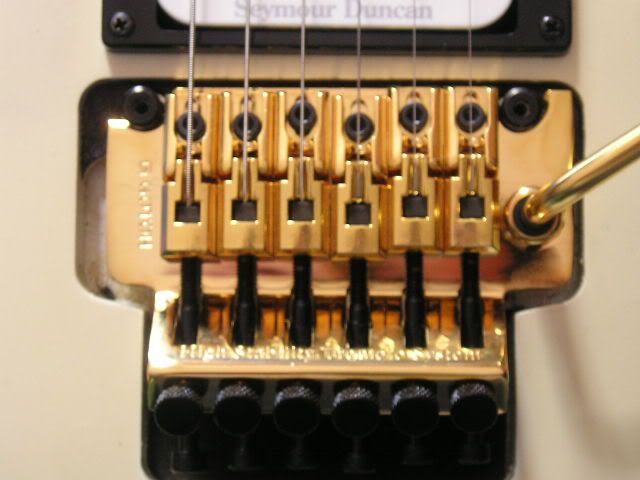 see the big black screws next to the strings... In this set up they are hex-heads, but they may be like a flat or Philip's head...
Last edited by Wolfdarrigan at Jan 11, 2007,
I got a Members Section Notice, is there some place that you can post it?
Oh, Ok, I saw it... To do that one, next to each string there are two hex head screws... To lower the action tighten down those two screws gently... Don't do one side too much, or the piece will start to twist... But that is all you need to do...

(Invalid img) Where my very crude arrows are pointing are you screws...
Last edited by Wolfdarrigan at Jan 11, 2007,
wolfdarrigan, thanks a lot!!! i will try it and post about my progress))
No Problem. If you have any more questions, let me know, I can try to help...