what is the name of the metal coil which plays on acoustic guitar?
and i'm searching for songs with that style of music...
tnx for help!
Please check your English, I don't understand the question.
I'm going out on a limb here, but do you mean a slide? If so, there are some blues artists as well as country artists who use slide a lot.

Join date: Oct 2004
150

IQ
slide?
Edit:
this is a slide:
This is a capo: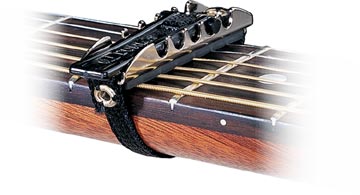 Last edited by Bonsaischaap at Jan 13, 2007,
ohhhh...yes its slide..tnx a lotttt dude!! u r the best!!
can u pls recommend me some acostic songs with the slide?
Last edited by na4all at Jan 13, 2007,

Join date: Oct 2004
150

IQ
sorry about my english...players use it generally i think in country songs(not a capo). u just put it on your finger and and play it on the acoustic guitar.
by the way tnx for ur help...:-)
That's a slide. You can pick one up at your local guitarshop or make one yourself out of metal tubing or a bottleneck. The slide is used mainly in country and blues; some players you can check out are Johny Winter and Eric sardinas, but there are countless other musicians who also use a slide.
Edit:
there are many slide videos and lessons on youtube, like this one :
http://youtube.com/watch?v=FF1KPrWx3gU
.
Last edited by Bonsaischaap at Jan 13, 2007,

Join date: Nov 2006
10

IQ
i remember a while ago i saw john butler trio maz sessions at my bros place on a dvd and i recal john butler usuing one in a song, sounded awesome