wiring SD's
As I don't have a great knowledge of pickups, I need to ask a question or two.

Can anybody give me some advice about wiring seymour duncan hot rails and little 59'ers. Each pickup has 3 wires , a black coated one, a green coated and one that doesnt look coated.

Join date: Apr 2004
180

IQ
Green and bare go to ground, and black goes to the switch.
Thanks, thats really useful. I'm just looking know at the switches on my two sets of electronics. The one which has the SD's on has a different type of switch to what is on the one which i'm transfering them to.

THe SD set switch.

O| |
| |O
O| |
| |O
O| |
| |O
O |
| |O


The other set which the SD's will be going to.

|O
|O
|O
|O
|O
|O
|O
Last edited by Lordoflax at Jan 13, 2007,
Oh, right. an 8 in line.
Here's how it works:
Regular strat switch
  [1] [2] [3] [4]
[4] [3] [2] [1]

Your switch 
[4] [3] [2] [1] [1] [2] [3] [4]
Yea but how are they wired up

like which pickup goes to which?


It is like this:


|O - Bridge
|O - Middle
|O - Neck
|O
|O
|O
|O


I think ive answered my own question ahaha
Last edited by Lordoflax at Jan 13, 2007,
no 2 hot rails and one lil 59er

the 59er being in the middle.

But looking at my other pickguards the diagram


|O bridge
|O middle
|O neck
|O
|O
|O
|O

is right.


The SD diagram you sent is for the 4 on each side switch. Mines a 8 in a line
Oh, I'm sorry, I thought you meant that was all there was to it.
Yeah, if we're just talking about the pickup wires...Yeah, we're cool.
And the diagram still applies, dude. Just adapt the diagram for the explanation of the 8 in line I sent you. Exact same thing.
So my diagram was incorrect. It just seems wierd that my other 8 in a line switches are wired up like ive said.
Umm...Okay, let me draw this for you...

I'll be right back.
I don't really see a conflict in what we're saying, dude...
Here's my diagram: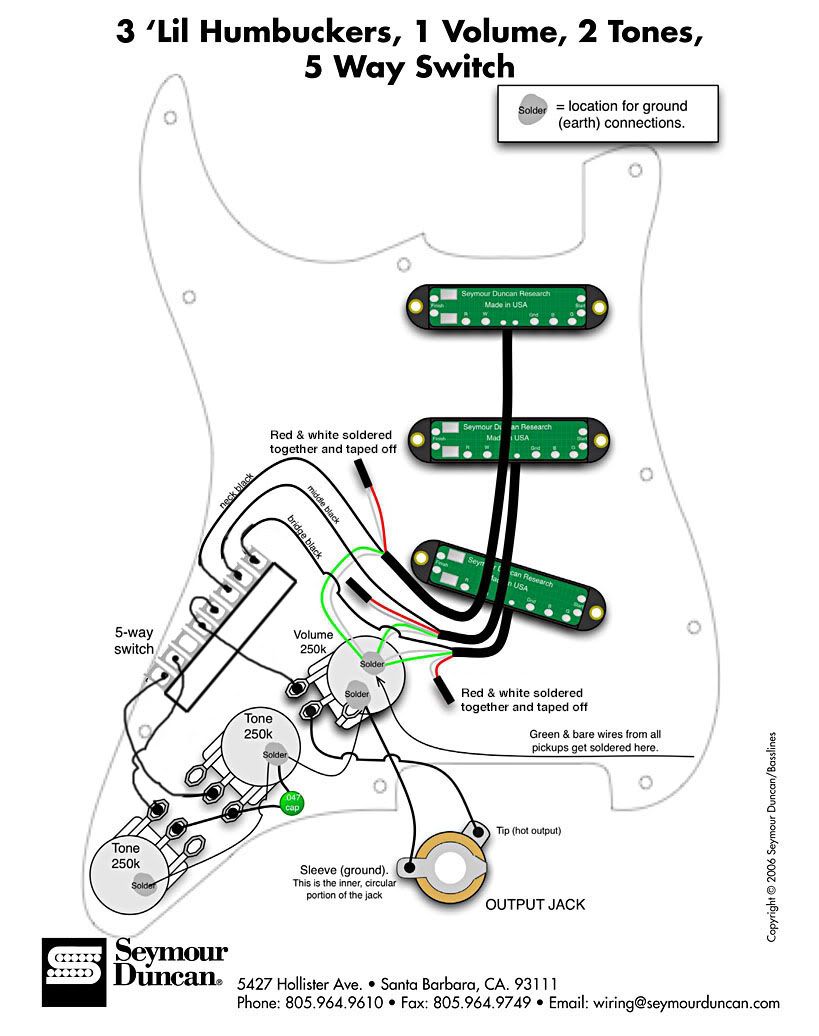 Do you see what I mean? Now do you see what I mean about it being exactly the same, except adapted to the explanation I made about 8-in-line switches?
HAHA so we was talking about the same thing all along. Thanks for the confirmation.
Woo.
[wipes forehead]
Exactly...Haha. No problemo.
UGGGH, ive just realised that one of the hotrails is an older model and that the outer casing that goes around the side is just white tape. However, I want to keep the pickups together because they are like a set all wired up together. SO can i buy a new cover for it?
Umm...Probably not. I don't think they sell hot rails covers. Who cares? It looks fine.
yea it should look fine. It actaully looks like a white gaffer type or canoe tape it looks fine.
Ive also just realised that the pots on my new pickguard are really small compared to usual ones. Is this a problem?
You mean the metal casing is smaller, right?
No, not at all a problem. Just a different style. I have those in my SG.