Series/Parallel
Does anyone have a diagram for series/parallel with two single coils, using a DPDT switch?
You want to switch between series and parallel with he DPDT switch, is that what you're trying to say?
Do you need volume and what not? If not, this should be correct.
lol, that's really sloppy. If you need volume/tone or whatever and need me to clean it up I will.
I need a volume, tone, Gibson 3-way switch and the phase switch.
Eep, I dunno how a Gibson three-way works. I'll look for a schematic. I'm guessing it's neck, neck/bridge, bridge?
I'm racking my brain. Do you know anyone who has done it before, just so I know I'm not beating my head against the wall trying to figure out something that can't be done. I can't figure how to wire it to include the 3-way switch.
What about a switch to replace the 3 way switch with both pickups in series?
I figured it out. Schematic to follow.....
Is there a phase switch for each pickup, or one for both?
There's one phase switch for the bridge pickup.
Just like this, except with a Gibson switch.
Last edited by Will_Minus at Jan 13, 2007,
Ok, check it out, trace some wires, make sure it all looks good.
If you have any questions ask. All grounds need to be connected one way or another.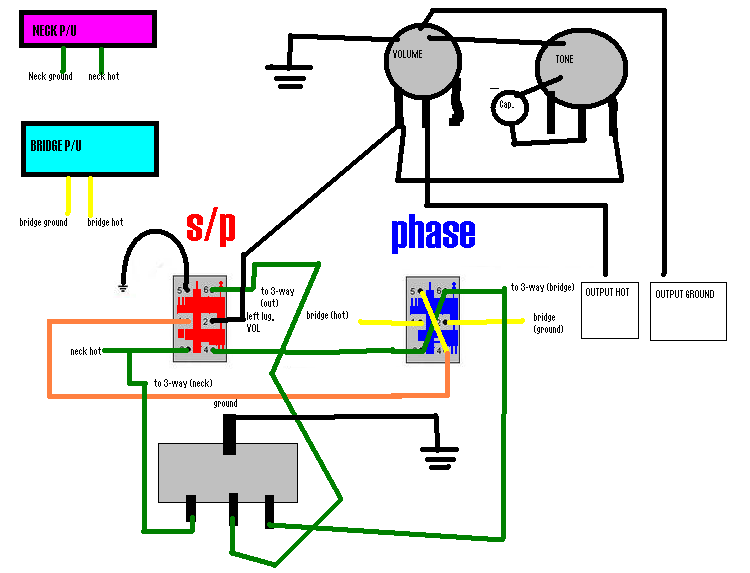 Like that?
EDIT: Errr... the far right tab on the volume pot should be grounded to the casing. Just a small mistake on my part.
Last edited by Will_Minus at Jan 13, 2007,
Yeah that looks right to me. Please tell me you got that from my schematic and I didn't spend all that time on a schematic that was already available.