What's the story on LACE pickups?
I am looking for replacment pickups for my Std Strat and of course have looked at the Fender Noiseless and the Dimarzio models, but someone mentioned Lace and I have never heard of them. Are they any good and will they keep the Strat sound I want while getting rid of that annoying hum?

Join date: Nov 2005
130

IQ
Most of the lace sensors will keep the strat sound.
I like the lace sensors a lot, they are also very quiet so yes it should get rid of that annoying hum. What sort of tone were you looking for, I have Red, Gold, Hot Gold and blue (in different guitars)
My Strat is my main learning guitar, and I want the widest range of sounds from it, but also while keeping that typical Strat sound, or close to it. I already have a Hellraiser for metal, so I would say that my Strat would be for everything else. Knowing this, which Lace pups would you recommend?

Join date: Nov 2005
130

IQ
Well golds are probably the most popular and thats what most of the sig models have (like Clapton, Buddy Guy, Blackmore) I prefer something with a little more power at the bridge though.
The most versatile you can get is set up some lace sensors dually and put in another switch. Fender used to do this around the late 80's early 90's but then it started to lose the 'fender chime'. Heres my mexi strat with them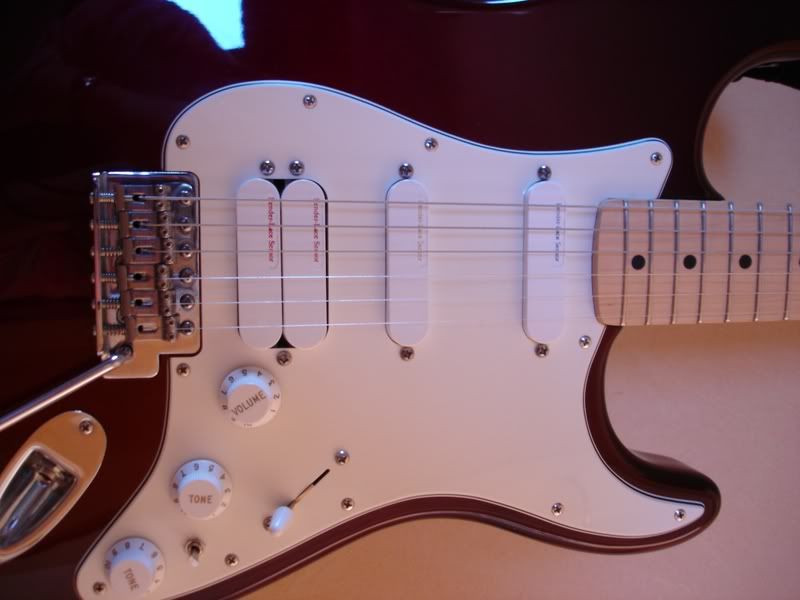 Still sounds close but the two reds act either as two different single coils or they can work together and produce a similar sound to a humbucker. (second switch is between the tone pots)
I'm using Gold (neck) and Hot gold (bridge) at the moment on my main strat (not togther at the moment), but the silver would probably be more 'fender sounding' and provide good alround tone, similar to that of the 70's
Mix them around if you like, I like the set up pictured above so you could just have the one red (highest out put) gold or silver for the middle and the blue sounds great on the neck.
Last edited by Master Shake at Jan 14, 2007,