To all Japanese speakers
After searching the internet for ages to reveal the unknown identity of my Japanese Ibanez bass guitar, I decided to remove the neck, since Ibanez uses the inside of the neckpocket to wright down what model the particular guitar is.
Removing the neck revealed a stamped model number on the neck and a handwritten Japanese one on the body. As you can see the neck one says "RD-828LE"
Unforunately, the ibanez Roadbass (RD) 828LE isn't very similar to my guitar. This can be explained by the fact that Ibanez uses necks originally built for one model, in this case the RD 828LE, for other models as well (another example are the RG-7621 necks on some RG-7421's). This probably means that the model is written on the body.
My Japanese is extremely poor; my guess is that it's written in katakana and says something like "RD-Hyowa" or something like that. Can anybody please translate this for me?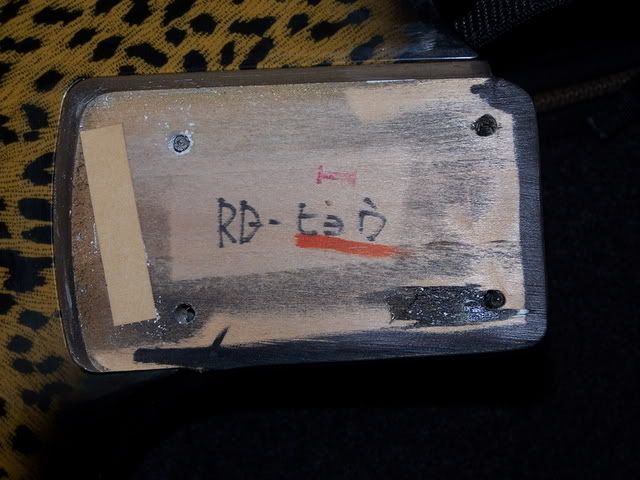 Join date: Feb 2004
40

IQ
It just says 'RD-Hyo' I don't know much about Ibanez guitars so I dont know if thats a legit serial number or if some joker wrote that on it when he got it.

Join date: Jun 2005
60

IQ
Hoshino Gakki was bored and decided to scribble something on a random neck :P

Join date: Feb 2004
40

IQ
Thinking about it, it probably just is some random guy writing his name on it.
does it have a serial number on the back of the headstock?
I c an speak japanese

kum o sum yung gai

Join date: Sep 2005
30

IQ
私は実際に意味するものを、私ちょうど東洋の言語を話す方法を私が知っていることふりをしたいと思った知らない。
Ok, now what?

Join date: Sep 2005
30

IQ
Ok, now what?


..??? I don't get it


Join date: Sep 2006
52

IQ
..??? I don't get it

Yes, this guitar does have a legit serial number on the headstock and I highly doubt some guy wrote this on the bass for fun, unless he worked for Ibanez in the first place (and has a very strange sence of humor).
The reason why I don't think it's the RD 828LE is because it features the wrong electronics and it has a panther-print paintjob which wasn't available on the RD 828LE (it's completely stock and I got it straight from the shop, who bought the bass from the official Ibanez importer in my country).

Join date: Apr 2005
50

IQ
Kensai, you Swedish bastard!

pics?

And I finally get it. Japanese speakers. lol