FX loop pedal
I want to make a pedal that has two FX loops in it. One loop is normal and I'll just put my DS-1 or some other future distortion pedal in it. The other channel I want to have a mid range/volume boost. Can anyone give me the schematics for this?
anyone else have any schematics?

Join date: May 2005
716

IQ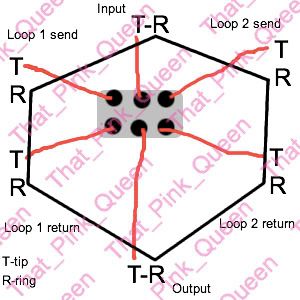 There you go.
I went a bit overboard on the watermarking.

Wait what does TR stand for?
Edit: I'm a moron...I see now

, though are there any resistors, capacitors or transistors I should put in one channel to give it the volume/mid boost?
Last edited by thebrewfan at Jan 23, 2007,