School Squire P-bass
So today I got permission to mod my school's band bass thats been laying around with one string off forever.
It says "Made in Japan" on the headstock and the Fender dating system says it was a 1983-1984 model. I've always heard that the old squires made in japan were some of the best of the squires.
So I need some suggestions on what i could do with this. I want to put in some good cheap pickups in it. Its would be used for jazz and rock.
I can do any visual mods tho. What would be some cool things I could wire up in it?
So far im planning to put in new pickups, new pots, and a killswitch. Is there anything else I could do?
How would I wire up a killswitch?
O and wats a chemical i could use to get mildew off the hardware?

Join date: Nov 2005
111

IQ
do you get to keep it? and is the school giving you the money to mod it...becasue i wouldnt put my own money into it if i wasnt getting to keep it
umm, no im not getting to keep it, and im mainly doing it for experience, i know im an idiot but watever

Join date: Nov 2005
10

IQ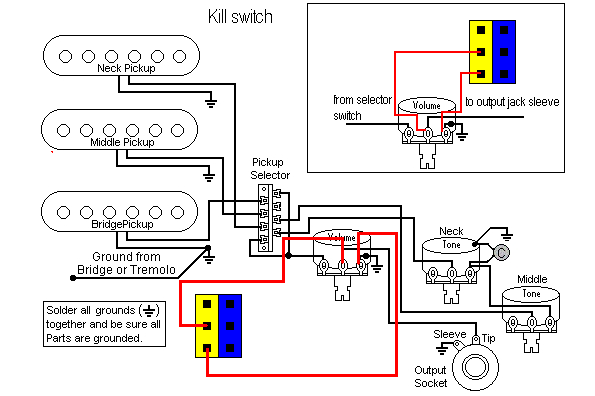 Use the little box in the upper right corner as a guide, relative to the volume pot.
For the hardware, I'd reccomend going at it lightly with super fine steel wool.
o... i fixed the hardware problem by giving all the hardware a nice bath in BRASSO, and also got off all the corrosion off the frets... and looks like i'll need a new switch. I know GFS electric guitar pickups are good but are the GFS bass pickups any good?

Join date: Jul 2006
33

IQ
i put seymour-duncan spb3s in my p-bass. it sounds good, but i have no idea if it matters which way round they go. one has basslines written on the cover and the other has nothing. ive seen pictures with the writing nearer the neck and with it nearer the bridge so no clues there. essentially are both parts the same?

Join date: Nov 2006
160

IQ
Black scratchplate?

Did it to a '97 squier precision (which funnily enough my school gave me) and it now looks killer, all I need now is to drop some quarter paunders in there and kaboom, a sweet bass.
Do i have to have that six prong(or watever you call the silver things on the bottom) switch? I have a two prong switch, will that work? Can i use a soldering iron to get old solder off?

Join date: Jan 2005
355

IQ
Use desoldering braid to get rid of old solder.
ok thanks, now about that switch....

Join date: Nov 2005
10

IQ
Two prong switch will work fine. Just ignore the blue side of the diragram, and the top black block on the yellow side.
ok thanks guys, i will post pics when i get done... if yall want them