What is the deal with this?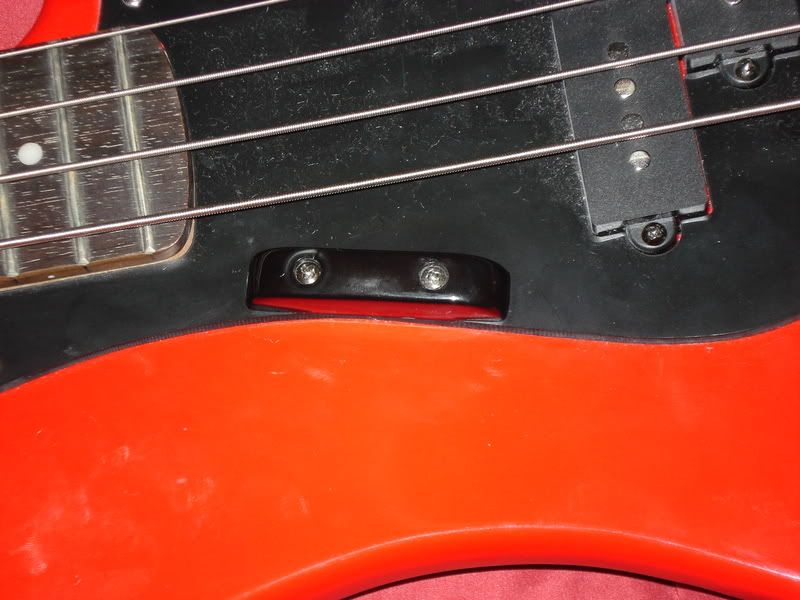 When I first got my bass, I thought that this was pretty normal. I never really actually took at other ones, I was more concerned with guitars and stuff.
I figured that the sole purpose is some sort of thumb placement thing, but how come no other bass I've looked at has it?
The Bass itself is a Silvertone Revolver Bass
(Ignore how dusty it is...)
I've seen that before on other silvertones, never on any other brand of bass.
Did you buy it new or used?
My parents bought it new last year, it was a birthday present so I am assuming around February 2006
It's called a thumb rest. It's pretty self explanatory really, but if you want more info just search for it.

Join date: Jan 2006
122

IQ
Yep, just your average thumb rest. Some vintage fenders have them, too.
Why did they stop putting them on current basses?

Join date: Oct 2006
140

IQ
Most vintage fenders have them, i bought an old bass for a tenner and it came with one, i just find it annoying though

Join date: Oct 2006
60

IQ
Last edited by Masturbasser at Jan 25, 2007,

Join date: Jul 2005
110

IQ
On alot of Fenders I have seen it on the bottom.... ???-
That is where you put your fingers. See...way back when people plucked with their thumb.

Join date: May 2004
30

IQ
I have an older Norma semi-hollow bass that has a thumb rest on top and a finger rest down below. I find I don't use the bottom one since that technique is somewhat outdated, especially in the music I play/listen to. However I still use the top one quite a bit. I find it quite nice. But that doesn't mean I'm going to install one on all of my basses. Basically, if it's there, that's cool, if not, that's fine too.
My older Epi Accutune bass has one and yes, its a thumb rest. Its an option that some like, some don't. Personally, after playing a bass without one, I tend not to rest the thumb there now, but on the pickup.

Its a personal choice--some bassists actually install thumb rests on basses that are without.

Join date: Jan 2007
147

IQ
I have a Silvertone Revolver bass too.

First of all, **** yeah.

It confused me at first too, and I figured I'd be screwed if I ever bought another bass since I got so used to it. Then I realized that you can buy them for like a buck or something then just install it however you wish. =D
A thumb rest is useful when you have a playing area preference and you want to anchor but you can't when you play on the low string. Also useful when you'd rather play at the bridge and you have no bridge pickup.

Join date: Mar 2007
60

IQ
remove it and send it to me if you dont like it
I'm the only one that has a Cobalt Blue Revolver bass, everyone else has a Sunburst one.

.....just thought I'd let everyone know
1. You revived a thread that was four months old to say absolutely nothing relevant to any question the threadstarter, or any poster had.
2. You did not add any new information that anyone else could have used or really cared about.
3. You essentially just posted the same thing after what? 6 hours?
4. Cut it the **** out. If you're going to post in a thread, post in a new one. Unless you absolutely have vital information that will turn the UG Bass forum on it's ear then don't even touch a thread thats a month old.