The Kyle Gass Show!!!
(Episode 3 is located on Page 6)
Back by popular demand. First aired in late 2002, and cancelled in early 2004 due to "personal demons" The KG Show has brought laughter and happiness to UG time and time again. For those of you who are not familiar with the show. The KG Show is a weekly compilation of what goes on in the Pit on a regular basis. This week We've taken a glance into the wild world of the Chat section, and had a wonderful opportunity to interview the TOP Chat***** in the business. We've also had the pleasure to interview the man, the myth, the legendary Mod. B.O.B. So sit back, relax and enjoy yourself for the New and improved KYLE GASS SHOW.
With Your host: Kyle Gass
and Co-Host and interview "re-inactor": _Mayday_
Since my return to the mighty UG I've noticed alot of turmoil. Not so much in the other forums as it has been in the Pit. 4 years ago the Pit was ran by 2 moderators, a handful of regulars, and an army of noobs (much like today) But those were happier times, nowadays the Pit seems to just be a place to go and Flame other UG'ers. Why the Hostility??? though I cant help but laugh when I see johnboy321 (join date Nov 06) call guitarlover885 (join date Dec 06) a noob, cracks me up everytime. But... its a phase, and like everything else, it'll pass. So without further mumble jumble I'd like to take you a peak of the wild world of the "chat" section of UG, or as some users like to call it Obigananana. The Vulcan word for, Elephant urethra. I explored the chat section for many days and nights, jotting notes on the conversations that took place, the mating rituals (poor attempts to cyber), and the good ol pasttime of flaming. The regulars of obigananana call themselves... Chat*****s. I had an interview with one of the regulars this week, lets see what he had to say.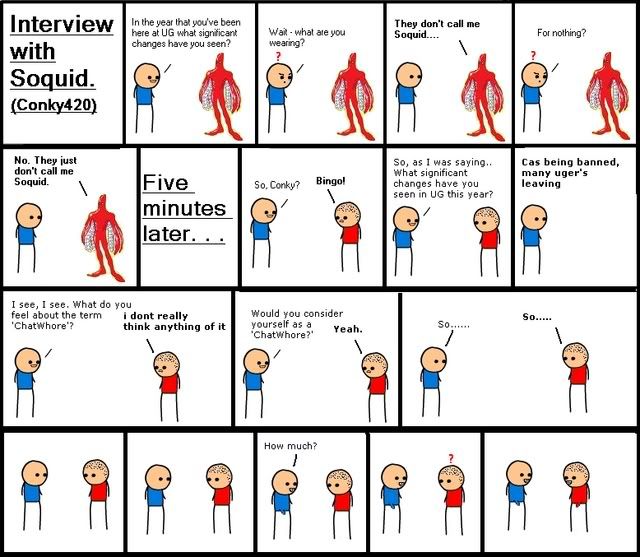 The rest of the interview had to be cut due to budget constraints and the fact _Mayday_ Ran out of Crayons... The full interview will be available with our DVD release late fall 2010. So to get back on topic I explored the chat world for a few days, and.... well... long story short this is what you find. You'll usually walk into the middle of conversation, usually about how many cats they own, or who's cooler, Barbara Striesand or a whale turd, then the topic changes to, why did cas get banned??? Then some flaming and Name calling. A half hour long chat about Cheese, buttsecks, and Howard the Duck. Then thats when I usually leave.... I cant stand Howard the duck..... bastard.
Ok now to our second Interview, I remember when I joined UG, this guy was PM'ing me trying to cyber with me, b/c he thought I was a girl.... I think he still does, but with no further catsh*t. B.O.B.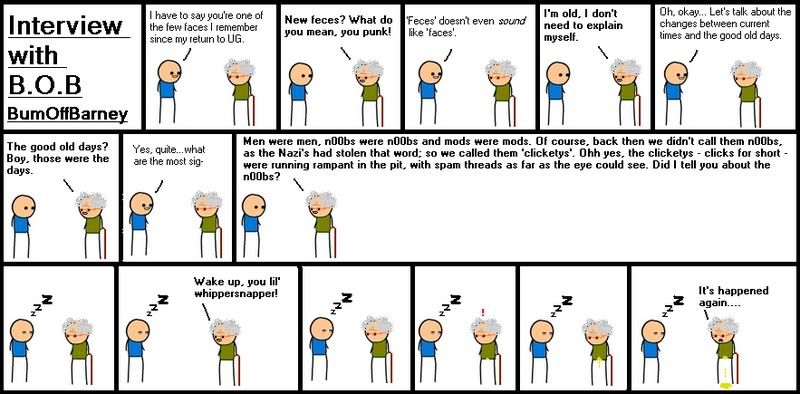 My apologies seems that our original interview with B.O.B had some how been translated to Cantonese and well.... anyway. Before we have to go, I'd like to take this time to give you this weeks: Noob of the week, Pitmonkey of the week, and Pic of the week.
Noob of the week: Sabu, You see his two word responses and Peewee Herman avatar in every godd*mn thread. So here's to you.... Honorary Noob of the Week.

Pit monkey of the week: This was a tough one and I usually dont nominate Moderators, but seeing as how there's hardly a time that I logon to UG, and dont see this man closing threads, and stalking the masses, who am I to take his title away? Congrats Dreadnought, you've earned it.
Pic of the week:
Thats all the time we have we hope you enjoyed the show, tune in next week where we'll be exploring the many subforums of B&A, and _mayday_ will dance to Little Red Corvette.
Disclaimer: This show, as spamtastic as it may seem, has been pre-approved by the U.G.M.O.T.N (Ultimate Guitar Moderators Of The Net). in short, if reported, you'll be severely laughed at.

Special thanks: _Mayday_ you're hard work this week has doubled your salary.
Meet me in the dressing room to receive payment.
Last edited by Kyle Gass at Feb 11, 2007,