Neck Pocket Problem.
Hey dudes,
I'm having a problem when it comes to putting the neck into the neck pocket. There's about a 1 maybe 2mm gap at the most (I'll post a photo of the gap when I get my digital camera back.) Now the neck pocket hasn't been painted as you can see below and I doubt I'd be able to paint it because I've ran out of materials for it but I thought that paint would've filled in this small gap.
Now, I was wondering if anyone else has ran into a problem like this. If so, how did you fix it? Or could anyone suggest a way in which this might be fixed.
Join date: Jul 2006
80

IQ
Is the neck pocket completely level?

Check.
And if it's not, level it.
Yep, it's 100% level. I've checked almost everything. The gap is on either the top/bottom part of the neck pocket (Looking at the photo.) depending where I place the neck.
I know from the photo it doesn't look like much but in person it's noticable.
Last edited by CoolDudeMorgasm at Jan 27, 2007,

Join date: Apr 2006
10

IQ
Is it a shelf neck?

Are you installing a pickguard which will go that high?

Are you so concerned by 1mm or so?

I'd say... If need be, shim it with a sliver woodjust so that it doesn't look like it's missing too much.

Or just get a small bottle of black paint and do the neck pocket black.
It's a warmoth neck and the pickguard doesn't cover it unfortunately. I'm not really concerned by it but I'd just be better without it. Thanks, I'll look into what you suggested.

Join date: Apr 2006
10

IQ
Okay... Seriously, just buy some paint and paint the neck pocket.
Just a word of caution before you start drilling holes to bolt the neck and the bridge to the body - make sure everything lines up, as in the strings are properly spaced and parallel throughout the length of the neck.
I had the same problem with an unknown body (from Japan) with a neck pocket slightly wider than the typical Fender neck. I test fitted everything before finalizing the hole placement for the neck. It's pretty obvious below: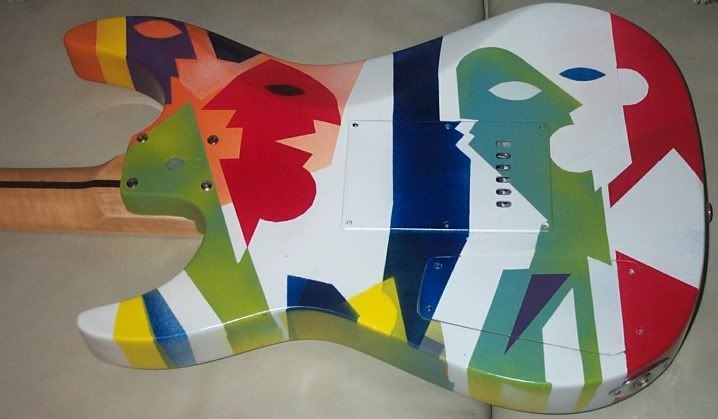 The saving grace is that it actually plays very well, sounds very nice, has sustain, very low action, and no dead frets. It's an odd combination: Mahogany body, maple/rosewood neck (instead of mahogany/rosewood), and is HSS.
Remember, measure 2, 3, 4 times, drill once. Good Luck!

That's fairly common with factory parts, there's not much you can do a pickguard will hide most of that anyway.