For Sale: All original '58 Jazzmaster
I have an all original 1958 Fender Jazzmaster that I am selling. It is sunburst in color, has the original gold anodized pickguard, and everything is in working order. Serious buyers email me or message me and I will send you pictures of anything and everything you want. This guitar is extremely rare, so if you are going to email me and offer $100 or something of that sort, don't waste your time. I'll be happy to answer any questions or anything here on the forum, so post away!

Join date: Mar 2006
70

IQ
I've already had offers in the 2000-3000 dollar range, if that helps

Join date: Nov 2006
80

IQ
can you show pics for the people who cant afford it?

IM gonna call B/s on this.

He's only posts are in here so Im gonna assume.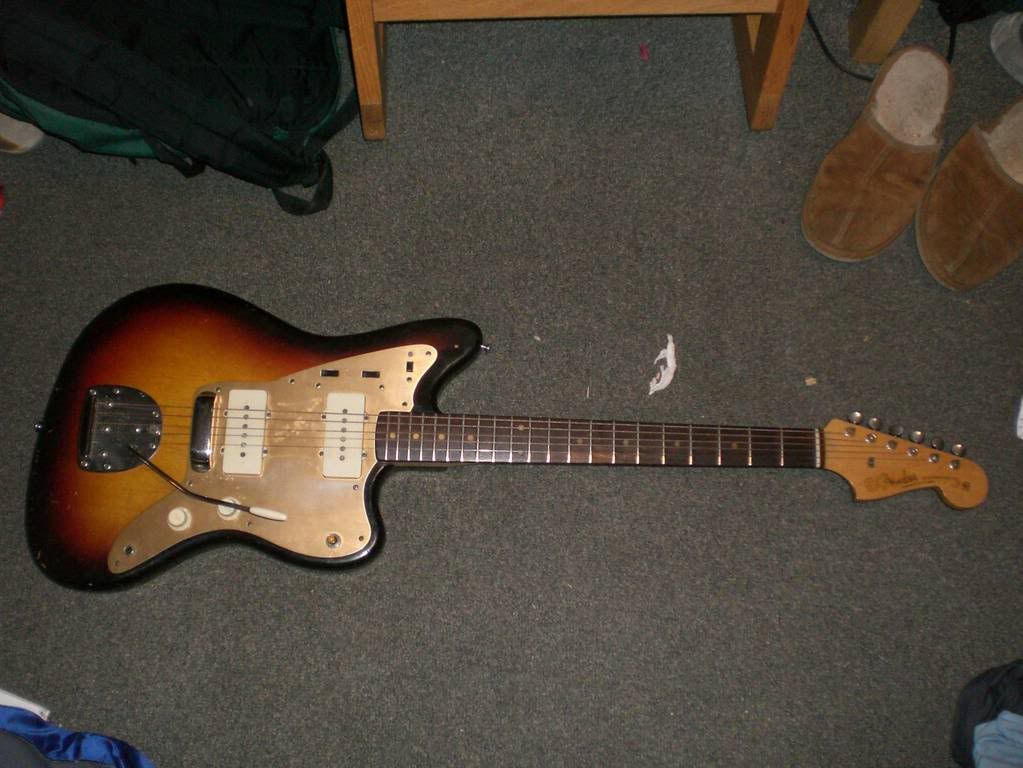 I dont have detailed pictures up on photobucket yet, but you get the idea. This guitar is not expensive for looks, or playability, its expensive because 58 was the first year that Fender sold Jazzmasters, and this guitar is completely original, nothing has been replaced except for one little screw that I am going to replace.
and what exactly are you calling bs on false god? That I own this or that i have already had expensive offers?
Last edited by AjBennett107 at Jan 28, 2007,
It was just suspicous, but I guess I was wrong.

Join date: Nov 2006
80

IQ
wow.....looks good to me, i cant buy it though

It was just suspicous, but I guess I was wrong.
It's all good, I'm a fan of shinedown so I guess we'll call it even

How do you move the knobs and whammy bar from one side to the other? Is this a 5 string?

the second picture got flipped when i was resizing it i guess, sorry about that haha I should have noticed that. It is a 6 string, one was missing when I bought it

Join date: Mar 2004
40

IQ
I'm selling it because I need the money and the guitar is of no value to me. I play guitar but I am not a collector and I am by no means "good" at playing guitar. I got it from a mutual friend who was in the same situation but he had NO idea what he was selling me

Join date: Jun 2011
10

IQ
This maybe a stab in the dark but, do you still have that jazzmaster?

Join date: Oct 2009
90

IQ
The guy hasn't posted in 4 years, I don't see him responding :P

sure is a beaut though.