Ideas on resurrecting my Takamine Explorer***
I want to do something with this bad boy. First guitar that was ever given to me... so any ideas? Although Hetfield played an ESP, I really dig the white body. I want to go with zebra coil Duncans if this happens... or with the 'ol 85/81 EMG set up. How would I go about all this? what will I need? I can't wait to get started. Help a guy ouuuut!! Thanks!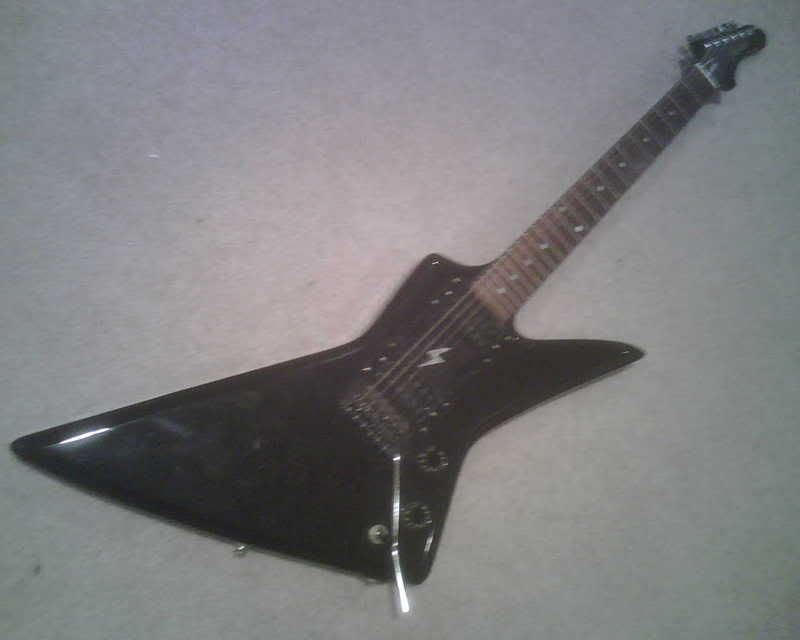 depends. if you get active pick ups your going to have to find a place to add the battery and its wiring. which shouldnt be hard. cool looking guitar tho. has that rugged look

Join date: Apr 2006
60

IQ
anything is possible if you have the money for it
go to gear building and customizing

Join date: Oct 2005
140

IQ
black locking tuners, black metal knobs, and Duncan Livewire Metal pickups

Join date: Aug 2004
130

IQ
I had one of these babies years ago. It was actually a pretty nice guitar. That neck-thru construction gives it solid tone and pretty easy upper fret access. Mine was white too.

I never could find out what wood this guitar was. Still to this day, I've never got that information anywhere. I know I had tried EMGs in it, but they really didn't do it for me (odd since EMG have been my #1 pickup choice for 18 years now). I ended up with some Dimarzios in it, I believe. Can't remember which model in particular though...
I think it's Basswood. Not sure though. The whammy set up is a little stiff for my liking. Any other choices? (Floyd Rose?)

Join date: Nov 2004
60

IQ
how much you want to spend on this project?
like $300-$400? wow... that's a harsh reality when I only paid $250 for it (in '98)
have to go for the dumbass moment here but i did not even know takamine did anything but acoustics, mind you i have never looked so there goes that,

my suggestion would be to get pickups that suit your style, duncans, EMG's does not matter they have to be to what you want, new machine heads would probably be good but not as necessary as you seem to have a locking system, new floyd rose or kahler trem. The sky is the limit, have fun with, refinish it you want, use it as a project to learn how to do things like, finishing, fretting etc, especially as it does not matter as you have some quality other guitars in your list