Bass Rebuild
Ok, I have an old bass guitar that I was going to sell for like 20 bucks, but I figured it'd be more fun to try to mod. I got it for 10 last summer and its just been sitting around. It'd be nice to have another instrument to play with and whatever. When I opened it up it had all this nasty smelling glue and rust everywhere. Its got these gross "select" pickups supposedly designed by emg, but they sound like ass. I'm on a budget, but I'm in no rush so I don't really need to get it all the way done for a long time, It would be nice have it finished though...
Anyways, I want to do the following things:
I'm nearing the end of the sanding process, here are some pics:
Getting that darn stain off!
Gotta fill the holes from where I ripped out the bridge. (The screws were all stripped out and so I just had to yank and cut, pretty crude, but oh well, sanding it down anyways..)
Half Sanded: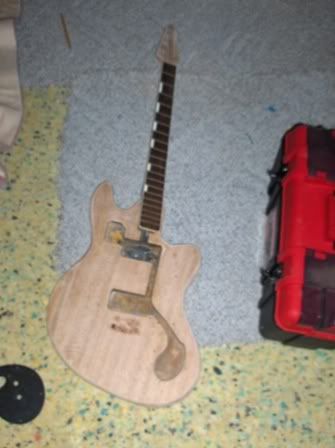 Nasty Electronics I pulled out.
Ok, now for question time...
P.S. Sorry for all the nooby questions, I've done some research, but I just want some reassurance on things being this my first project like this and all...
Also, what way are you supposed to turn the truss rod to lower the action?
Before you think about how to lower the action, you need to know where the action was highest. If it was all the same distance up and down the fretboard, you'll need to lower the strings at the nut and at the saddles. If the action is higher towards the bridge then either A) the saddles are too high and need to be lowered, or B) the neck is bowed and needs a truss rod adjustment.

There could be other things that contribute to high action aswell.
* What kind of paint do you suggest? I want to paint it like that mellow kind of new VW beetle green...
Since you're going the inexpensive route, try Duplicolor ($6) or Krylon ($3.50). Make sure you stick with the same brand for the sander/sealer, colorcoat, and clearcoat. Crash used Krylon on Clapton's Crashocasters + his other Fender Custom Shop Strats.


* Should i replace all the electronics or just the pickups?
Replace the electronics. Get some inexpensive ones from
Guitar Fetish.

* What bridge do you suggest, I'm leaning towards just the plain fender type one...
Yea, the PBas and JBass copy bridges are pretty close to the Fenders. A Badass bridge would be overkill.

* How should I go about removing rust on the tuners? Lubricating them?
I've soaked in WD40 the rusty base plate of a Fender Strat then scrubbed it with a toothbrush. Other than the oily residue which took a bit to wipe off, then dry, it looked much better after. Maybe the pros here have a more efficient method. I was rushing it, so ...
* What are some good all around pickups for cheap?
I'd re-use the existing ones with the new wiring and pots first. If you're not happy, upgrade them to nordstrands.

* Any good tricks for lowering the action?
PM the pros. Maybe the bridge adjustment will resolve this.
Good Luck!

yeah, the action is way high as you get closer to the bridge... hey thanks for the tips guys!
Also, what way are you supposed to turn the truss rod to lower the action?
Actually, when seeking lower action, you should NOT immediately look to the truss rod, unless the neck has too much relief. There's better ways to deal with it.
So yeah, check the saddles, like Will_minus suggested...but unless you know the neck was bowed, don't mess with the truss rod.
ok, then should I wait untill I install the new bridge then to start messing with the action?
Also, would guitar electronics work?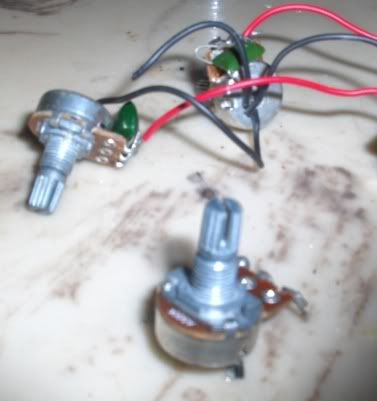 those are some guitar pots that I had and could I use those on bass? Theyre really clean I just dont know if it would work...
On a 60s re-issue Jazz bass, I've used a 250K guitar pot with a .05uf cap.
awesome, im getting new strings, a bridge, knobs, and some soldering stuff off the internet so I should be good to go, also my buddy has a bunch of auto paint stuff (the spray guns, extra paint i can use and whatnot) Figuring I'm going to use my old pickups and just put in semi-new pots that I already had and whatever, this project looks like it is going to be under 50 bucks! Later on I'll probably give in and put in new pups though...
k, i am done sanding, well i was done yesterday but just thought id update you guys if anyone cares...
Post pics! Notenough pic-heavy threads here.
Have to say, I like the body shape.
Me too. Wood looks like it's pretty good quality, too. I think this is gonna turn out cool.
haha ok, i didnt want to post a bunch of pointless pics but heres the final sanding: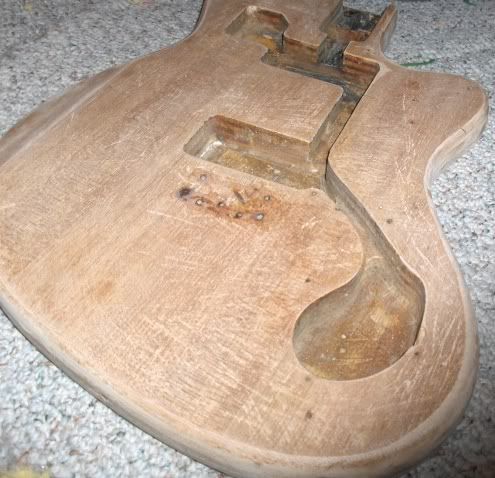 It looks really rough, but its smooth as can be to the touch, and I didn't really mind the wood looking a little beat because I'm planning on going thick with the paint anyways..
I'm curious, do you till have the old bridge that are better than the one in the 1st picture? It looks like it might be half decent. And you can fix the screw holes so that the screws actually grip.

EDIT: you might want to sand it in the grain of the direction anyways. That way you still have the possibility of giving it a nice stain.

And do you have any pics of the body from the side?
Last edited by Will_Minus at Feb 1, 2007,
What kinda finish do you plan on applying?
i still have the bridge, but its absolutely worthless, its all rusty, and bent up, the screws holding saddles are hell. I had to rip it out so it got even more bent when I removed it.
edit: heres some pics
(bridge)
(side shot of body)
oh and I am still undecided as far as paint and whatnot..
Last edited by batman123 at Feb 1, 2007,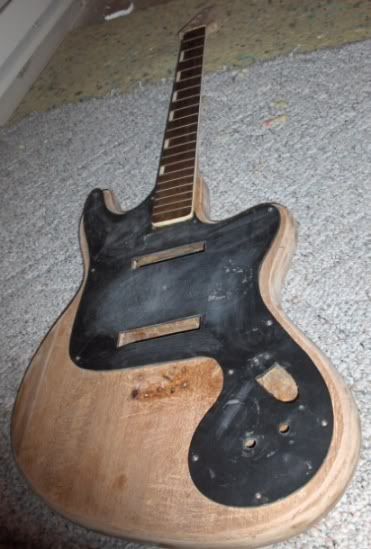 thats a picture with the pickguard just loosely set on top of it, just to show you what it looks like with it...
(side shot of body)
Aww. I was wrong...Looks like ply. Oh well. This could still turn out pretty cool.
Aww. I was wrong...Looks like ply. Oh well. This could still turn out pretty cool.
yeah, i wanted to cover that kind cheapnes up with some thicker paint.
Thicker paint..? Just paint? If you're gonna do it, ya gotta do it right, my friend!
You don't need thicker paint...just gotta do a solid, opaque finish...and do it right, ya know? Nice and glossy.
http://reranch.com/
Check this out.
haha, yeah thats what I mean. The thicker look is what mean, like i dont want any transperancy if that makes sense..
Oh, okay. Thank god! I thought this was gonna be some horror story where somebody just spray paints their guitar....[shudders]
You could stain the top some nice colour, then spray the back and the sides black, and then do a nice little black on the edges of the top.
that does sound nice, i dont want to get too complicated with my first project... you know.
well i won an ebay auction for this really heavy duty thick ass bridge, its sweet, im just waiting for it to get here. I have to get some paint stuff soon...
This is still going to be a cool project.
Just curious ... although it looks or might be plywood, isn't it possible that those are pieces of thin solid wood glued/sandwiched together? I've seen something similar at a local shop, unfinished, and the owner/luthier said it was Mahogany/Alder/Mahogany/Maple construction and not plywood, which is little chips or bits of wood glued together ... not to be confused with MDF, etc.
Good Luck with the paint job. Remember, patience and finish preparation are very important to a kickass result.

That's altogether not impossible. I believe some Epiphoen gutiars are made in the same manner, with just Alder and Mahogany. I mean, the top would looks pretty nice, IMO. So yeah, possibly.
yeah, the layers are solid, which is weird, like a skateboard.... odd, i know nothing about this bass so if anyone has any info on something that looks like this... hook me up!
Do something similar to a Crash

He uses cheap Krylon spraycans at $3.50/can compared to ReRanch's premium-priced cans. You can get fantastic results. In case you're not familiar with Crash, he painted 3 of Clapton's Strats and he did a series for Fender's Custom Shop. It's not for everybody of course, but I like his graffiti designs.
yeah i was definetly looking at some of that duplicolor or krylon, where do you get it though? Like the local hardware store? Walmart?
Duplicolor is available at most US auto supply stores. Krylon is available at most supply stores, not sure about Walmart.

Make sure that you stay within the brand for the sander/sealer, colorcoat, and clearcoat ... although I've mixed Krylon and Duplicolor.

Join date: Nov 2006
220

IQ
it kinda reminds me of a NR thunderbird, its a cool shape, not too sure about the pick guard though.
i love the shape, all i can say
Ippon, plywood is when a blade rips off plys of wood from a tree, which are staggared to add more stability, you seem to be talking about OSB.
Well I ran into my first obstacle, I don't know where I'm going to paint it, because my folks won't let me do it inside and where I'm at its -20 degrees Fahrenheit, so will the paint freeze before it dries?
well... at any rate, i got a new bridge, and a solder gun, I'm using some strap buttons off my old guitar, theyre one of the few things that were in decent shape... so yeah, and I found a bunch of new screws around the house that are perfect for some parts, so I'm using them, I just wonder if I should just assemble everything then paint it in a few months... what do you guys think?

Join date: Jul 2006
106

IQ
isnt that a badass bridge? thats what the store owner told me when i bought my Dean bass. looks just like that.