What kind of guitar is this?

Join date: Dec 2005
110

IQ
Okay in the summer I posted a thread about me getting a free guitar, a Harmony in fact, but the problem is that I have no idea what kind of Harmony it is.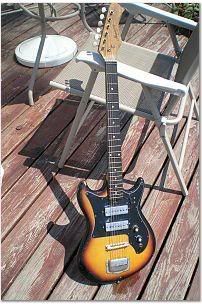 there's the picture of it, it does not have a cerial number or anything like that on it. So if you know could you tell me the year and what model?
no serial number prob fake
idk
it looks kinda like a fender jag or mustang
i think it's an harmony jizzcaster

Join date: Jan 2007
30

IQ
idk
it looks kinda like a fender jag or mustang
please come back when you know what you're talking about, kthxbai...
that looks nothing like a jag or a mustang or even a jagstang

Join date: Oct 2006
20

IQ
some kind of fender id say

maybe a custom

not sure

Join date: Jun 2007
60

IQ
That is most definetly a Harmony h-802, I know because I own one...And that one looks to be in better shape than the one I have, mine looks like it's been jabbed by needles....lol, I hate you for getting yours free, when I paid 100 for my junk.