ESP/LTD WANTED BADLY!!!! -- look inside for trades
Okay wanna make it pretty sweet and simple this time...

Im really desperete to get an esp guitar..

Im based in u.k

To trade ive got:

Roland Cube 60 --- great amp, Great effects

Peavey audition 30 amp

Fender strat cream body

Pickguard loaded with standard strat pickups -- ready to be used just need screwed and soldered

plain neckplate

thanks alot for your help

bobby

Join date: Jun 2006
30

IQ
are you willing to trade all of it for the esp?
i have a new ec-1000 esp ltd guitar i am looking to sell
this is not my guitar, mine has abelone binding. but it has spertzel locking tuners, strap locks, 2 emg 81 pickups. i have been wanting to sell it because i play mostly acoustic and sold my marshall dsl half stack

im looking for $650 usd to sell (if you are interested)
this is the real pic of it: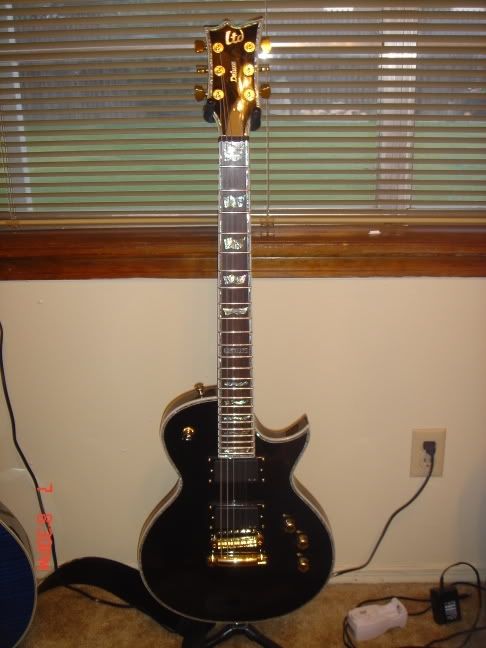 let me know if you are interested. i am in amarillo tx 79110
To be honest i really depends what type of esp.. let me know

kadinh im not really interested... But NICE GUITAR... God i wouldnt sell it
Last edited by metalaxxeman at Feb 9, 2007,
But NICE GUITAR... God i wouldnt sell it
thanks for being honest

and for the compliment

Join date: Jul 2006
20

IQ
kadinh, how much would you want for that? It's awesome!

Join date: Dec 2006
10

IQ
how much would u sell the pickguard and pickups for?
Mmm. i dont really know to be honest... Looking more for trades but i look into it
the fender strat....what type is it? Korean, jap, USA wat?

and how much would you sell it for??
It just a fender strat body... Im almost sure its mexican. I think

price... like i said above i mainly looking for trades so im not too sure, but i will look into it Where are you based??
mmm... yorkshire thats not too bad, im in northern ireland... How much are you looking to spend or any trades??
gimme a price really, i mean iv got things for sale, (crybaby, Line6 amp) but id rather just sell them, do you have any other parts for the guitar?
mmm.... well ive just got a scratchplate with built in strat pickups, dont know what they are, it would fit fine into the strat body

Join date: Feb 2007
40

IQ
mmm... Not really what im looking for... But thanks anyway

Keep em' comin guys

Join date: Feb 2007
10

IQ
i wanted a ESP hammett but i couldn't afford it so i setteld for a Ibanez RG (red) and im just wanting the dimebag pickups for it to complete it then i would be a happy person!