Nicks Build (Warning, huge pics)
So, ive been designing and building a guitar for over a year now in cdt class for gcse, and Calum keeps telling me to make a thread , so why not?
specs:
-Neck-through
-Zebrano and brazilian mahogany laminates
-Mahogany wings
-Quilt maple top (not carved)
-12" radius, 24 fret cocobolo freboard
-Jumbo SS frets
-Handcarved bone nut
-3-a-side locking tuners
-String thru body
-2 humbuckers (undecided yet)
- 3 way switch, 2 volumes and master tone.
- All hardware is gold and either Wilkinson, or Gotoh
The body is of a prs influence, and the neck is shaped like my jem, but a litle thicker.
The body istelf is overall very thick,(les paul depth) with a sharp belly cut and no chambering, so its gonna be heavy!!
Here are the materials before i started
top and freboard: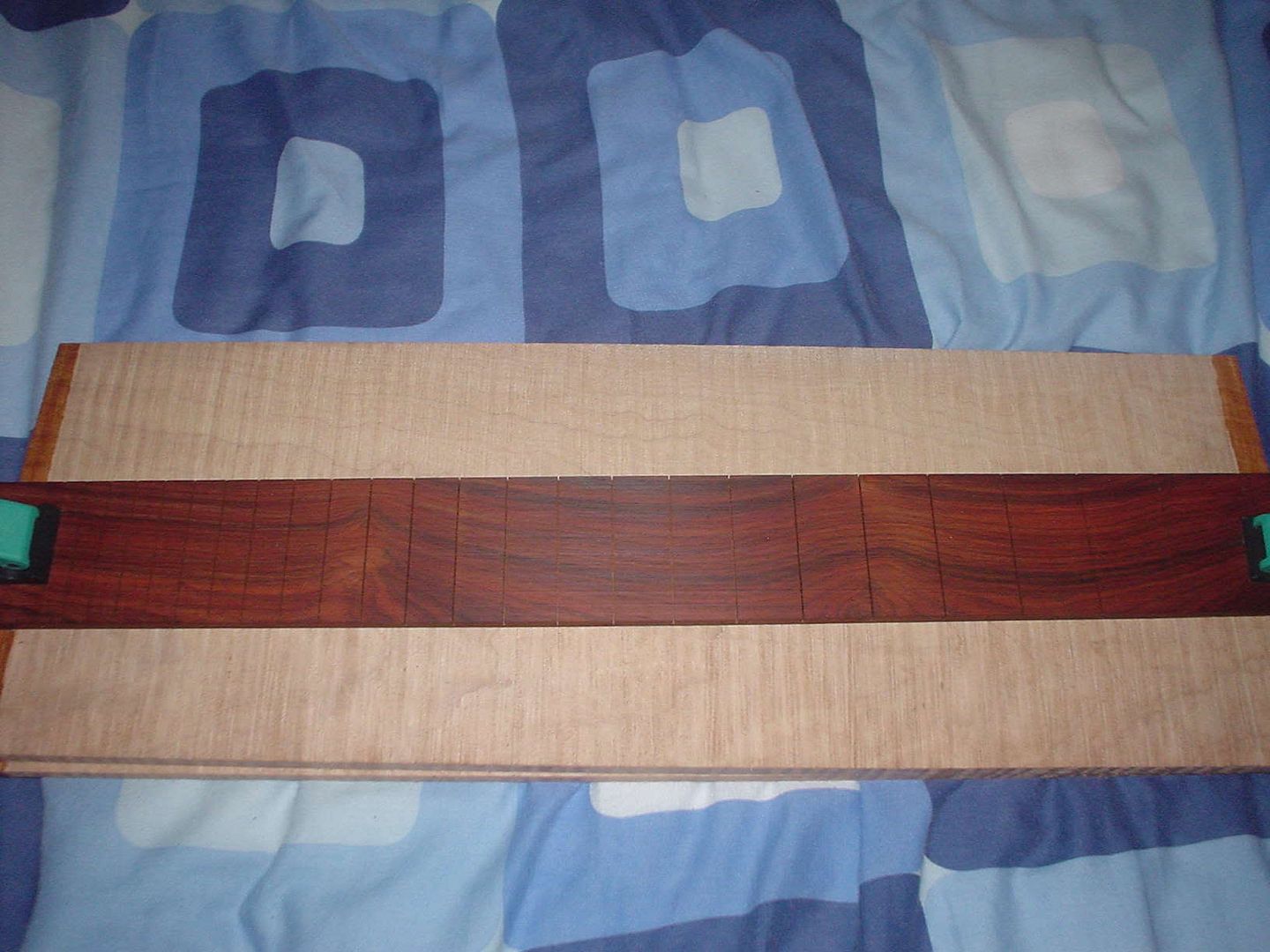 showing the tops grain: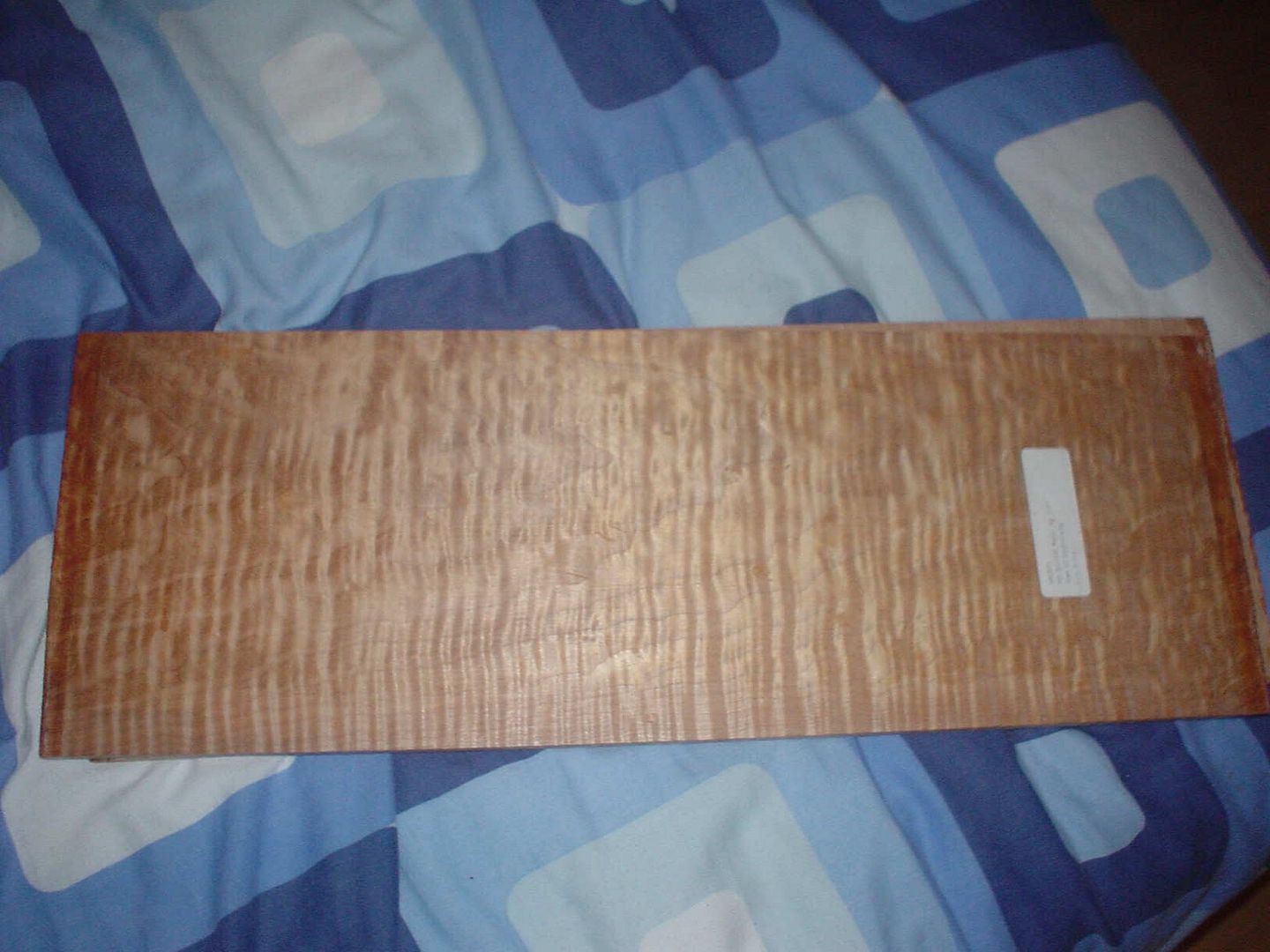 collective: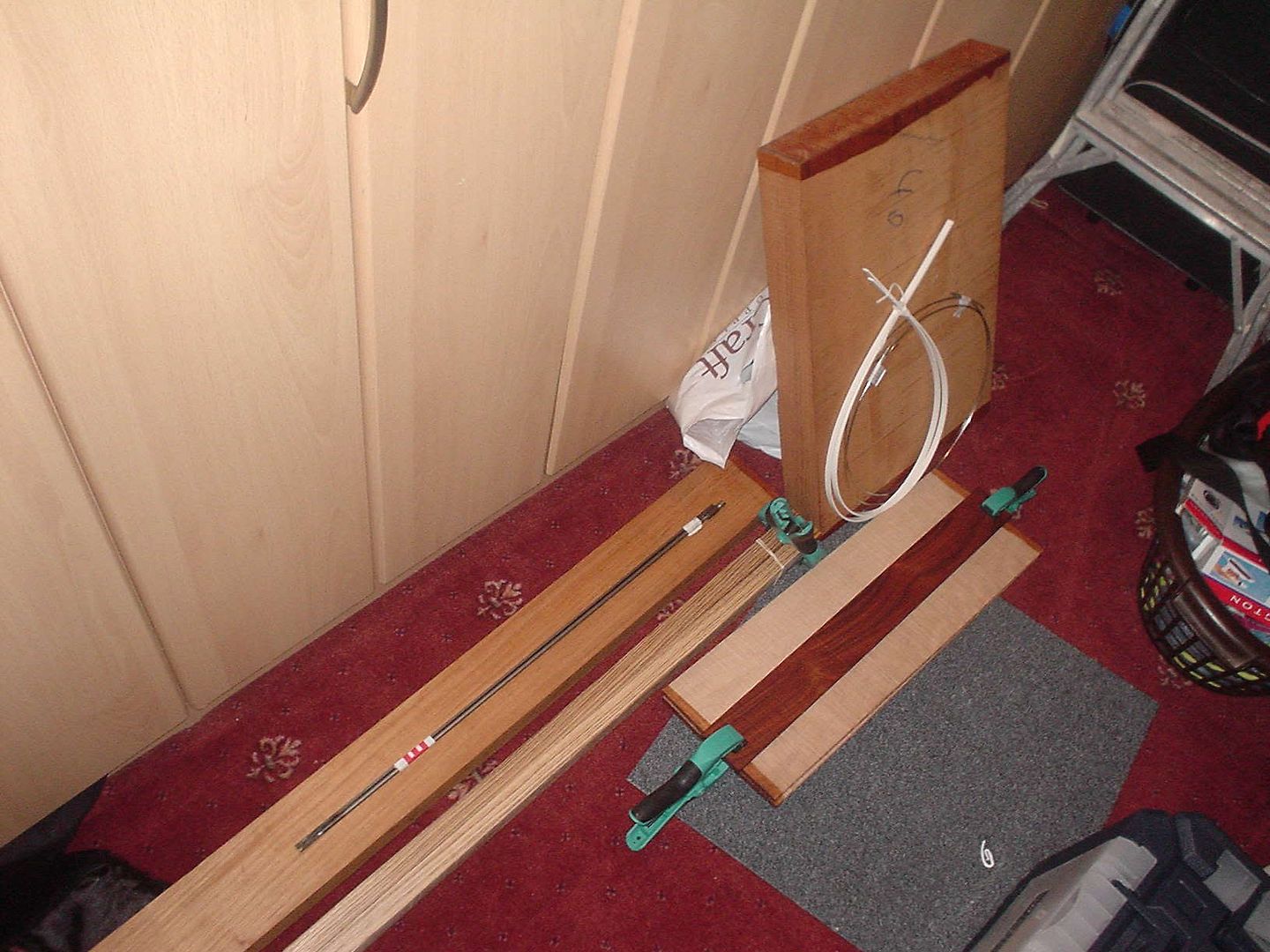 Ill add progress pics very soon

Nick
nice have you started yet this will be a nice guitar. why no chambering silly
i started the build about 6 months ago and will post progress pics soon.

i have the controls routed out on the lower wing and thats taken a lot of weight off, and the belly cut balances it out.
righty ho i personally would have chambered it but if you like it gd 4 u
well the body is african mahogany, and fairly light.
great looking top. looking good

..hate to pop the question of...what pickups you putting in this? and any paint ideas?
pickups depend on my budget right now.
im thinking maybe some dimarzio's.

paint, im gonna be doing an antique style burst with nitro.
the neck will be lightly finished, then rubbed with steel wool for a satin finish.
cool. which dimarzios you thinking?

i dont know as of yet, but maybe an air nortan and d sonic.
and here is a shot of most of the hardware.
Nice!
*creams pants*

so, here is a teaser pic for the mean time of the body right now..
jsut been sanded and placed together for a dry run.

Join date: Nov 2005
10

IQ
tbh, the pics dotn do the top any justice at all.
here is a full pic.
the back fo the zebrano neck is incredible. ill get shots tomorow.
that is a sweet lookin headstock, reminds me kinda of a schecter, but still different, i like it

thanks, the headstock is prs/schecter inspired
i can tell pics don't do it justice. the zebrano is cool!
I see you did away with the Musicman Petrucci model look. WELL DONE OLD BEAN.
I see you did away with the Musicman Petrucci model look. WELL DONE OLD BEAN.
aye, i thought i'd use the style though, and add prs influences. i love how paul styles them, but sont get of with carved tops too much.
What is the little cut away at the bottom in the right wing by the neck.
its somthing i came up with and like in the design. and i intend to put the input on that so its sorta consealed, so its neer the neck on the lower bit.
Basically, he screwed it up:P
I see, I was thinking it had something to do with the input.
Well seems like its going splendid. I love zebrawood btw.

Basically, he screwed it up:P
i screwed your mom up ped

and thanks al
i lvoe zebrano too, very nice to work with as is mahogany. its harder than mahogany, so it made the spkeshave glide through the neck wood very smoothly.

Join date: Feb 2006
112

IQ
Man, i'm gonna be keeping my eye on this one,
Looks sweet.

Keep up the good work!
Have you decided on the pups yet?
thanks for all the kind words guys.

tomorpw ill get some pics up of hardware layed out on the body, neck heel and routing under the top.
wow that looks nasty nice work so far. whats the plans for the finish?
antique burst nitro with a satin neck.
Join date: Nov 2004
419

IQ
I thought I saw bindings in your 1st pic. Is the guitar going to have any?
im still a little undecided whether to use dreme, or leave it narural binding, since the top is so nice and it shows around the edges.
so, ive got a few shots of the neck heel for you impatient noobs here.

Join date: Nov 2006
80

IQ
taken measure ments for the fretboard just now off my jem

42mm at nut
52 at 12th
56 at 24th.

so tomorow, im going to plane the board to rough width, then double tape it to my guitar neck and sand to fit.
then, ill mark on for the offset abalone markers and drill them out, and glue them in.
after that, my next job will be to radius the fretboard using my 12" radius block, this will give the board the correct radius, and the markers will be flat and snug.
I'd cut the sides of the fretboard with a circular saw first, and then plane them. You can't really change the angle of an edge with a plane, all it does it flatten out the edge that is already there, and it doesn't matter what angle this is at; it won't change it. So cut the sides of the board with a saw oversize first, and I would plane the edges flush AFTER you have glued it on the neck, and then put the inlays on after that.
well tbh calum, its possible.
ill go from the butt to the head, and as i come closer to the mark line, if i think its close say at the 24th-12th, ill stop and jsut go from the 12th-1st and the like.
there isnt much to go down really.
I wouldn't do that with a plane. It'll take ages and won't be smooth. Plus with the amount a plane takes off on each pass, you'll be there doing that forever (providing of course you tune the plane properly). Cut it first with a saw, (preferably circular to give a good straight edge) and then tidy it up along the edges with a plane. The method you described is a poor method to taper a piece of timber, cause that's not what a plane is for.
i dont have access to a circular this week.
there is maybe 2 mm at the but and 6mm at the nut.
spokeshave?
Spokeshave isn't much different to a plane, just not as accurate. I would cut it with something like a panel saw then, and smooth it out with a plane. It'll save you a HELL of a lot of time and hassle, and it'll work.

The thing with spokeshaves and planes is that they are designed to take the same amount off as you move it along the workpiece. You can't control the cut so much as you can with a chisel or a saw or something. It's all set and it does it itself. Great tools though, planes being my favourite all time tool, but they are best working at what they are made for.
hmm, i see your point. might see if i can get into school to saw the board.
and i prefer spokeshaves to planes.