amplitube2/stealthplug
hello dudes, ive got all my equipment and stuff pretty much set for gigging etc, just wanted to ask a few questions about amplitube, i have alot of spare time and i originally bought it as a small room stuffing around on sort of thing, just wanted to know how i use it to record? i have the registered version of tracksion and in the manual it says

"Open Tracktion, add a new track and then simply drag the icon labeled new filter... (that is located above the filter section), and drop it in front of the volume/pan filter area. Now the new filter icon is glowing red.
Once the new filter icon has been dropped in the selected area, a list of available
filters will appear.
Choose AmpliTube 2 Live."


however this option never appears wen i do it, also amplitube and tracksion cant be open and working fully while both are running,

any help appreciated, other programs etc.. thankyou

Join date: May 2005
716

IQ
You do it like this: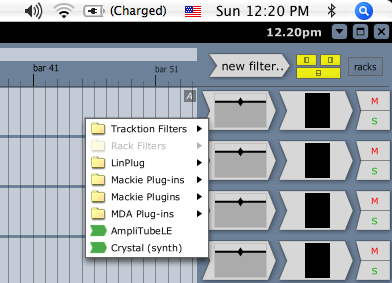 Click the "New Filter" button and drag it down to the right track. Then click on the filter you want. (In this case Aplitube.)
Er, did you put the VST plugin in the right location?
thats what mine looks like when i try, is the VST plugin on one of the cd's??
Did you add your VST pluggin folder in the tuning section?
my version is in french but, between the Project and the new edition on the top of the screen there is a place to clic to enter the setting. go there and click ok plugin on the left.
There add the path to where you installer the VST pluggin version of your amplitube (you don't need VST... just create a folder for the pluggin when you install amplitube).

Once you added the folder clic on refresh the pluggin folder. Then you should see amplitube as an availible filter when you add it to your track...

good luck...
LP