Are you able to..
Hello,
I have only been playing the guitar for a couple of months now. Initially, I bought an electric guitar, however now i've had a play about I was looking to buy an acoustic.
A friend of mine bought the Yamaha F310 in a package for christmas, (as it was reccomended for beginners) I had a chance to get my hands on one yesterday, however I didn't.
I took it out of the box, and noticed it was right handed. Well, the strings were setup for right handed..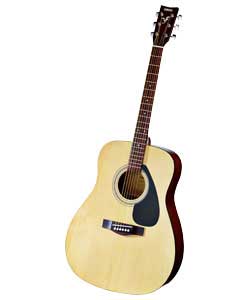 I noticed unlike my electric guitar, that the body shape was symetrical. The reason that i didn't buy the guitar is that i'm left handed, and the seller didn't know weather or not (like me) it was possible to simply swap the strings around?
I went into a music shop, and was told you can only swap the strings around on a classical guitar.. although a friend told me it would be fine.
Should i buy the guitar? Is it infact possible to simple swap the strings around?
is it possible? yes
would I recommend it? no.

Join date: Nov 2006
60

IQ
its possible, but intonation could mess up.
The scratch plate would be one the wrong side, but technically i guess you can move it. Also with a steel string (as opposed to a classical) the nut may not allow you to reverse the strings. In which case you'd need to replace it with a left handed nut (not hard to do).

Perhaps you could purchase it and take it to a guitar shop(GuitarCenter, Sam Ash?) and have them do those two things.
Oh.. damn =( erm.. i can't seem to find that guitar anywhere in left handed.. i guess buying a completely different one is my option =P I guess i'll buy it from that music shop since i know they're not lying now =D

Thankyou for the help! =D
yea! its completely possible and it will sound fine im left-handed and ive done it to a few acoustics

Join date: Oct 2006
130

IQ
jimi did it so id suppose so
It can mess up your intonation and will cause problems with your truss rod. You will also have to carve the nut cause its setup to fit the string the ring handed configuration.
looks like a real nice deal. Especially with a nice case like that.
Join date: Apr 2006
40

IQ
That is a good deal. I'd go for it.

Join date: Sep 2006
10

IQ
I guess the same problems with the nut would be on the bridge right? My guitar's bridge is sort of on an angle and has notches (not just grooves) for some of the strings.
Jimi Hendrix did it on a an electric.
There arnt any intonation problems that will arise from that.

It is possible, but left handed guitars are generally not too much more, and are worth the little bit extra. Ask a shop to order in a left handed model of the guitar you want if they have none in stock
I'm left handed as well and i can testify that is worth the extra little bit of money.