E string buzzing on bass.

Join date: Jan 2007
10

IQ
well, im kinda of a newbie to bass (1 year.)
whenever I play the first fret on my E string,
it buzzes. In order for it to not buzz, i have
to press hecka hard on it. that makes
my fingertips HURT. anybody got tips?
any would definitely be appreciated.

Join date: May 2006
304

IQ
Well this isn't really the place to ask questions like this. Try the guitar and bass basics forum.
what type of bridge?
a lot of times there are pegs on the front of the saddle, u can lower the peg with a tiny allen wrench to rasie up a string.
similar to this guitar's saddle.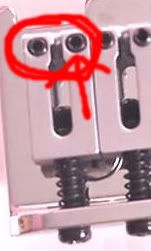 phil's pic
and question's like these belong in basics or EG, like said.