Just got a new Strat
Well i was in the market for a strat and i finaly got some cash to get one so i went the music store and ened up coming out iwth a 3 tone sunburst, MIA highway 1 strat. The jubo frets feel amazing, and the neck is sleek and easy to play, i am in love wiht this guitar, ill get pics up tomrrow, lemme know what you guys think of this guitat, and how else has one.
hot damn, a highway 1 strat through a vox ac30 is like butter on popcorn.

i dont own a strat but i played one a few times when my band was recording. The neck pickup through an ac30 is sooo mellow and rich, ahhh,

Join date: Nov 2005
130

IQ
I played one a while ago and I thought it was good in between the line guitar, much better than the Mexi strats however I thought I would replace the pick ups if I did buy one and I'm not a big fan of the jumbo frets. I eventually decided to put a strat together using the 3 tone sunburst body because I liked the mat finish and I am quite impressed with its tone however it scratches easily.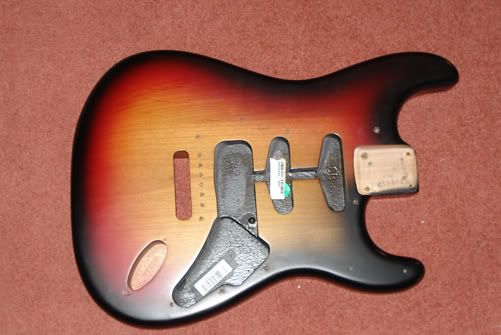 Body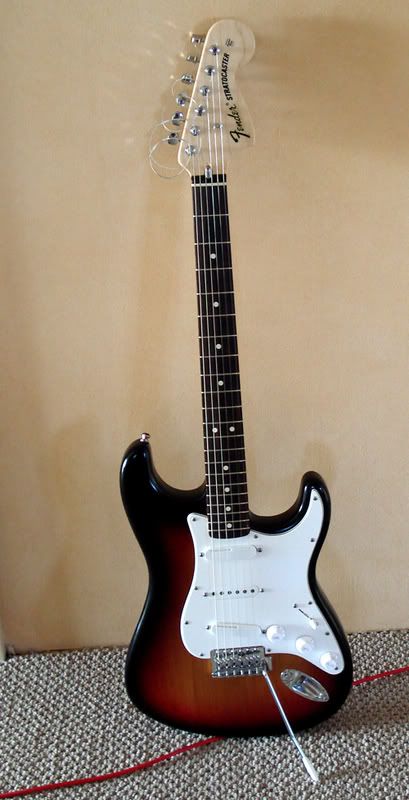 Thats my guitar now but I still need a new bridge and scallop the neck (which is a 70's reissue)
I have not got that exact one however I am recently the very proud owner of a mexican strat holy shit I love playing that.

Join date: Feb 2005
160

IQ
Congrats man! Sunburst is the best color for the Strat. Get the pics up soon!
Maple or Rosewood fretboard?

HW1 Strats are killer. I'd save for one, but i'm currently negotiating a deal on an original 60's Strat the same as Jimi's woodstock one, and let's just say it's damn cheap...
Sunburst Strat's are sexy for sure

MrCarrot, what sort of price range have you managed to negotiate?
Oh, about £50

I feel like i'm ripping the guy off but he never uses it, he got it off his grandad, he plays metal and he generally dislikes it.
Electronics are shot but it is authentic...
:O

....

:O

I think that about sums it up...yup...

If you feel bad, give him £60 for it :P Then sell it to me for £70! JUST THINK OF THE PROFIT PERCENTAGE!
Haha :P
Any ideas what it might be worth on eBay? Not that I'd sell it, but just to see what it might be really worth...
Oh, and btw, it may seem like everybody asks this, but how's your Orange? I wanted that exact amp for my next one

It depends on the condition. What year is it? What's original? It'll be worth even more if it's pre 1964.
Man, the Orange is beautiful. Overdrives excellently when you crank it and the clean channel has a lot of presence. It's just great. I've been using it at 3 on the volume at band practises and been plenty loud enough, but last night, we put the amp on an amp stand and I didn't even have to crank beyond 2! You won't be dissapointed if you decide on one

Also, they look sexy on stage

Not sure what year exactly. It does look exactly like Jimi's woodstock one, and he says it's 40 years old. Condition is nigh on perfect. I haven't had a closer look at it yet, he's agreed to lend me it for a week though.
I have seen it too, so don't be doubting it!

The amp looks and sounds sweet. As long as it has decent cleans and decent OD then it's worth considering

It's a toss-up between that and an AC30... It's a hard choice, as I know the Orange's OD is legendary and the VOX's cleans are legendary. I'll have to have a good long session with each when I can afford either

Haha, I had to make the exact same decision as you! I was up in the air between the AC30 and Rocker 30 for a good couple of weeks then went with the Orange. Haven't regretted it and if you can combine it with a Tubescreamer or something like that, man, it screams. The cleans do have a great sound, shame there's not more variability with it, like you only get a master volume, no mid, treble and bass. I s'pose you could get an EQ though.

If you can get the Strat to work with the original pickups, getting the wiring checked on it like, I can only take a wild stab in the dark as to what it would be worth.

I should think that £4000ish is a reasonable estimate, but I might be way off the mark.
:O
:O
:O:O:O:O:O
:O
Now I see why you reacted like that! If he doesn't change his mind and I buy it, I'll take it straight to a tech to see if it's repairable! Never knew it'd be that much, christ. £1-2k I thought. Imagine what gear you could buy with 4k, if it is worth that....
Although I probably wouldn't sell it

And it's a damn hard choice for me between the amps eh! the VOX clean has awed me but the Orange OD has knocked me down too :S
Haha, either way you look at it, an all original 40 year old Strat is worth more then 2k, which is still a hell of a lot of cash haha. If he changes his mind, just be like "well, I've really taken a liking to it tell you what, call it a hundred".

Nah, you shouldn't sell it. Just imagine the sound you'd get through the Orange with a vintage Strat. Man, mine sounds nice enough using my mates Mexican Strat for god sake! Haha.
Yeah man, I can just imagine that Orange now...
Reckon I can get RHCP cleans with it? I haven't heard any clips of it clean... And the no control knobs on the clean channel don't bother me, I've got a Valve Junior and I love the thing

You certainly could get RHCP cleans

I get a nice Under the Bridge sound with it and I don't have a vintage Strat

It's pretty nice if you need to run an Electro Acoustic for like a song or two. Mine sounds sweet through it and the feedback isn't too bad even without a soundhole plug.
all of my guitar/amp
body
Pedal board
I figured id post evreything for fun.

Join date: Aug 2006
191

IQ
Pretty nice setup. Ive been urning for a new Hwy 1 forever.
for the guy whos trying to decide on the vox or orange, the vox is a killer amp, great cleans, greta overdirve, i use a ibanez ts9, makes its sound amazing. I dont know what to tell u to get, eventually im getting a marshall or mesa for my overdrive, but dont get me wrong this amp can do it all.

Join date: Jan 2006
70

IQ
Haha :P

Any ideas what it might be worth on eBay? Not that I'd sell it, but just to see what it might be really worth...

Oh, and btw, it may seem like everybody asks this, but how's your Orange? I wanted that exact amp for my next one
If its pre 64 it would be up around $50 000 AUD if its clean....
i dount you will get that much for it, i got pics up on the first page!