Dirt on the fretboard

Join date: Jul 2006
170

IQ
After playing for so long, my fretboard has all build up and dirt on the fretboard, is there an easy way to clean this off?
soft toothbrush. some fretboard oil.

if it's a maple board then guitar ploish and brush or rag.

Join date: Jun 2006
70

IQ
If it's really nasty you can use a razor blade. It works well, you just have to be very careful.

Join date: Mar 2006
3,296

IQ
Just take the strings off the guitar and use a small amount of warm water to get the majority of it off, then use fret polish to give it that new guitar feel

Oh, and use toothbrush
dont put water on unfinished wood.

Join date: Aug 2006
201

IQ
ya really dont put water on your neck just like that. esp warm water. or your neck might be all banana'd up a few hours later. like some said, a toothbrush is a nice improvisated solution. ofcourse there are all sorts of stuff to buy at guitar sgops like neck polish and special neck cleaning brusges but its whatever floats your boat.

Join date: Dec 2006
20

IQ
A good maintenance policy is to clean the fretboard at the same time you swap out the strings.

Join date: Dec 2005
150

IQ
Cleaning Fretboards
What you need:
- 0000 grade steel wool or 3M Sanding Sponges (Fine/Extra Fine)
- Lighter fluid or 100% rubbing alcohol
- Soft toothbrush
- Clean cotton rag
- Bore/Lemon oil
- Lots of elbow grease & patience
*It is way more easier to clean all your fretboards if you take it out from the body 1st and putting it on the table or if you think its too much hassle assembling it back, then you can just leave it there.
Cleaning the fretboard:
1) Unstring -
duh!
2) Use the Sanding Sponges or 0000 grade steel wool & rub gently over the frets, careful not to go against the grains, always make parallel contact with it
3) Clean 1 fret at a time, not going up and down throughout the fretboard
4) Rub gently across the frets, too much pressure isnt necessary as it will ruin the grains
5) Moving to the inlay area, depending on the dirtiness, you can use a thin pick as a scrape to scrape around the inlays
6) If the dirt still remains, then use lighter fluid/rubbing alcohol to remove it
7) Apply some lighter fluid and using the toothbrush, just brush at the sides of the frewires to remove the dirt accumulated at the crack (you dont have to worry about going against the grains on this one)
4) If you're happy with it, then you can now apply bore/lemon oil onto the fretboard, you can just drip some onto the freboard (which i do) and wipe gloss or apply to clean rag 1st
-be careful not to use your fingernails as it will leave scratchmarks-
5) If you're not quite happy with it yet, repeat step #6 with toothbrush with applying a bit more force
6) Leave to air dry overnight
Before (rosewood):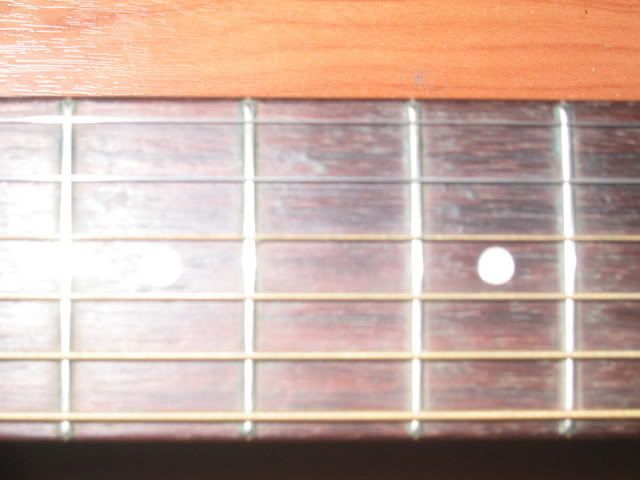 Before (maple):

After (rosewood):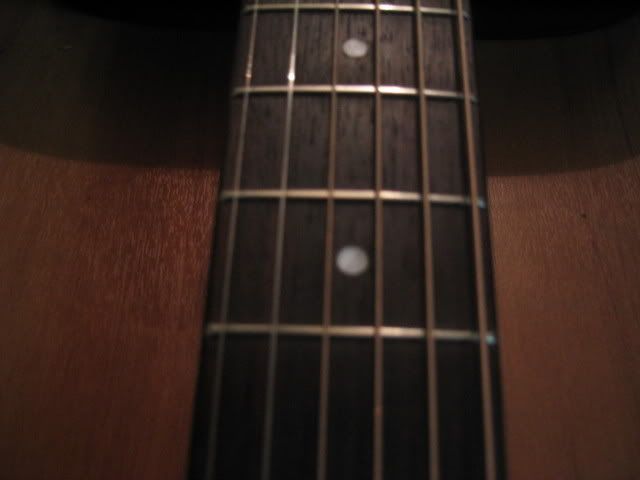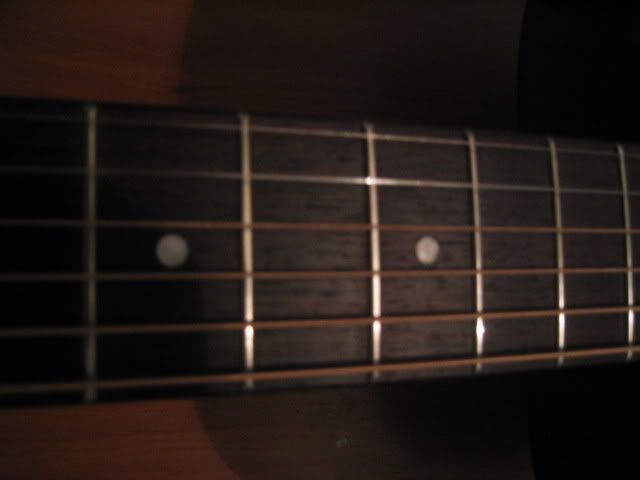 After (maple):

Tips*
Its not recommended to use alcohol/lighter fluid on maple fretboards but i find it pretty hard to remove the stain so a little wouldnt hurt

Helpful Website:
http://www.ibanezrules.com/tech/grunge/grunge_1.htm
-----------------------------------------
- madpickin03®
------------------------------------------