ESP LTD for trade!
Last edited by 7PlaGues at Mar 2, 2007,
i have a made in japan squier
Here
this ESP is stocked with Seymour Duncans. There are a few nicks here and there but electronic issues whatsoever. feel free to contact me with offers and questions. thank you
Last edited by 7PlaGues at Mar 15, 2007,

Join date: Feb 2006
40

IQ
I am still trying to determine that. I sent an email to ESP and have not heard a response. There is no model indication on the 12th fret, as ESP does for most of the LTD series. I think this may be an older MH400 or MH100 but I cannot verify that as of yet.

I am looking for these parts and will also accept trades for older korean squier strats. i will need pics and serial numbers though for the squiers.


EMG DG20 pickup set
Fender MIA maple neck
Fender '57 or '62 RI tuners
Fender '57 or '62 RI bridge
Fender backplate
Fender Neck Plate

Fender CS '54 pickups
Fender Blue Lace pickups
Fender noisless pickups.

Pm me for any offers on trades or sales..thanks!
UPDATED INFO:

This ESP is a H-200, which was only available in this config in 1997. IN 1998 ESP put block inlays and model names on the 12th fret. The body is ash with natural binding, bolt on maple neck with bound rosewood fingerboard and headstock, 24 extra jumbo frets, 2 duncan designes humbuckers.
bump
Last edited by 7PlaGues at Mar 15, 2007,

Join date: Mar 2007
10

IQ
Hey, are they good guitars? I see them all the time in Musician's Friend magazines and was just wondering if they were good guitars. I'll try to do some research.
yeah.. these are great unlike the cheaper 50 or 100 lines. the duncan pickups rock and have a nice versatility. the fretboard is nice and smoothe. the body does have a few dings here and there but nothing major. this particular one is only from 1997. ESP started with the different inlays and the model number on the 12th fret in 1998
still up for trade or sale. last chance.
Interested in selling it instead of trading? If so whats the price?
Interested in selling it instead of trading? If so whats the price?
I'll do 250 shipped in padded gig bag within the US only. I can accept paypal and money orders.
Can you get all the pics working? The first and last are the only ones that work for me.
Immortal, PM sent with pics.
How would you rate the overall condition?
internally, 10/10
externally, probably 8.5/10.
There are no cracks or extreme deep gouges or anything. there are some scratches and dents though. average gigging bumps and bruises.
man you have WAY too much gear :X
man you have WAY too much gear :X
nah! 17 guitars isnt enough. i'll trade ya this ESP for a different guitar

lol.. i myself used to have 9 gutiars.. but i had to do some selling for my drum set and cymbals. only guitars i have left are fender/Mighty might strat with EMG's and a bc rich neck thru mocking bird.. and my fender 12 string acoustic.
I know what you mean..I sold three of my drumkits so far

I want to buy or trade for it. If it's still up for sale....

I have an old beat up m-50; which I am totally in lov with currently, after a few mods. So i can just imagine what this baby plays like.

I have an Epi SG, don't remember the model, but they all play the same. Willing? If not i may be able to come up with the cash.
Yeah, i can. And also it's in mint condition.I was going to give it to a friend so he could pick up guitar, but he decided it was too time consuming.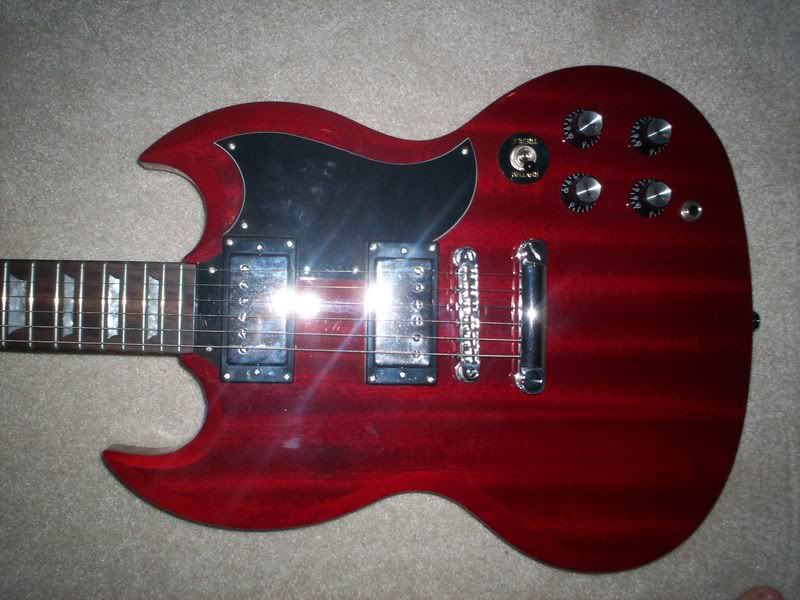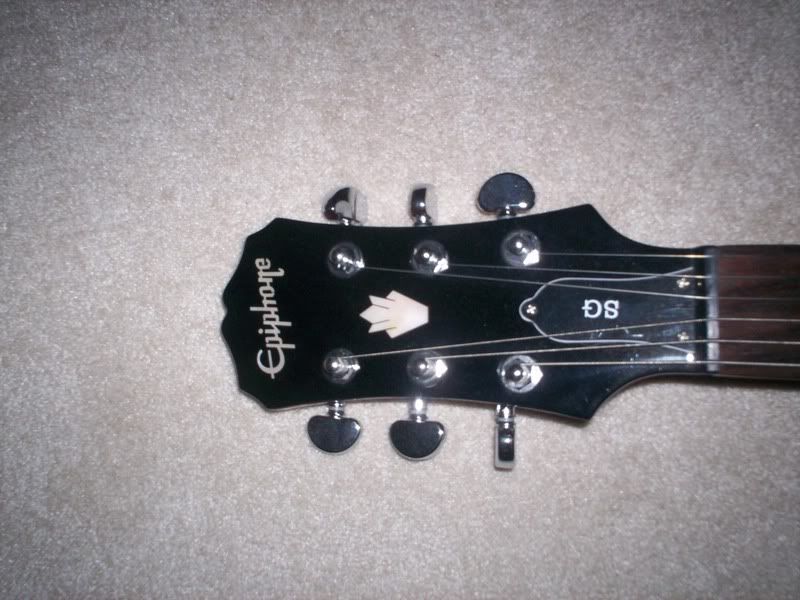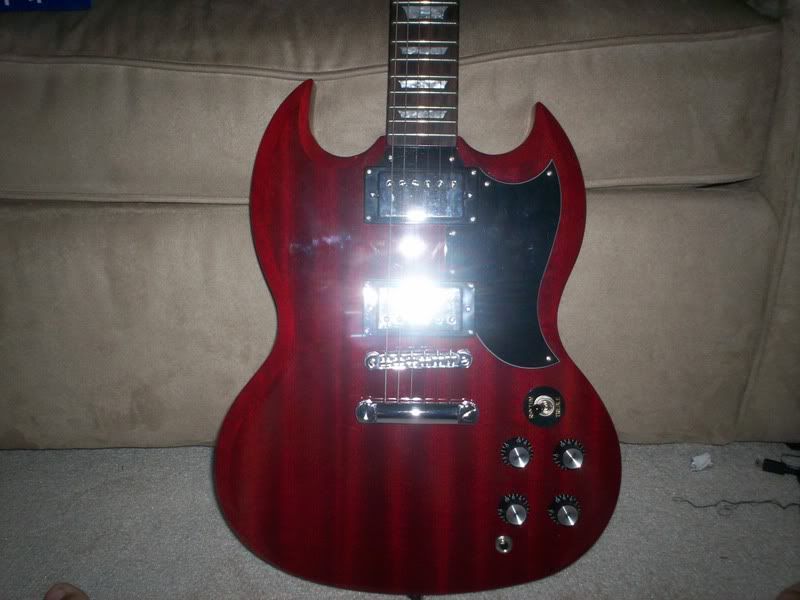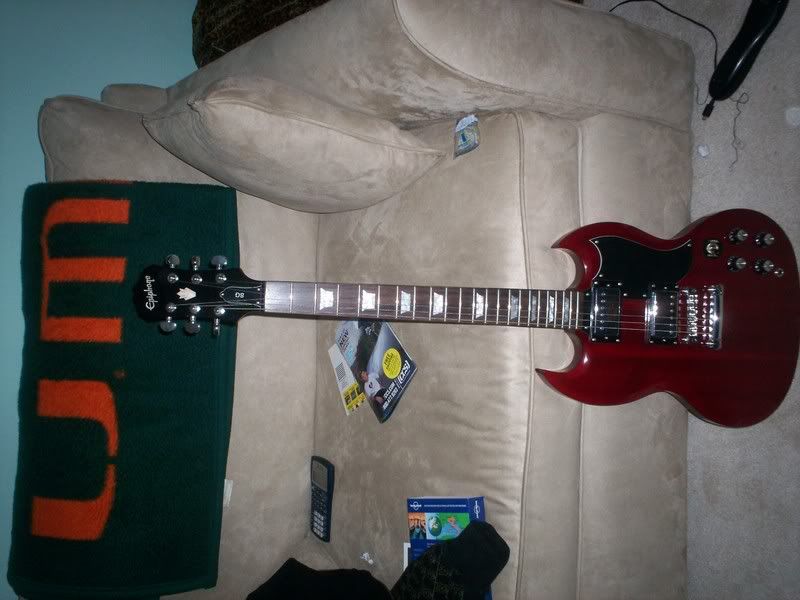 Messy room currently

As you can see, not a scracth on it. It
might
have 10 playing hours on it. School is being a bitch lately.
EDIT: anything that might look like a scratch is probably a dog hair. My dog sheds tons.
hey man, thanks for the pics. it is a great guitar and really nice looking. I was looking for a different colored SG. Im not too big of a fan of the angus young look

If you were still interested in the ESP, i will sell it to you. if you had any other guitar in mind you would like to trade just post away and we can take it from there.thanks.
-Bob
I think i may still be intrested. How much do you want for it?

Join date: Mar 2007
10

IQ
What is The Retail Price On it?
What is The Retail Price On it?
i'll have to contact ESP to get the retail price from 1997. Used, they are selling for about 275-300 USD
I guess the trade isn't going through, so this is still open for sale or trade for strats.let me know.thanks
still up for trade for another electric or a flat out sale.
rubber-baby-buggy-BUMPer
price is 225.00 shipped...US only.

Last edited by 7PlaGues at Mar 27, 2007,
ESP has been traded to member JFive.