New bass came in today
This is more of a show-off thread over anything else, but I just thought I'd let you guys know the Dean I won off eBay saturday came in today. Its a Dean Edge 1 4-string, passive EQ (Thank God). I also play a Peavey AC BXP Millenium 5-string with Active EQ, but couldn't afford all the 9V's that come with 2-3 gigs a week, not to mention practices, and playing everyday for an hour and a half at school, so I decided a passive bass was sorely needed. Anyways, got it for $155 because of a medium chip in headstock, and a very small scratch on back.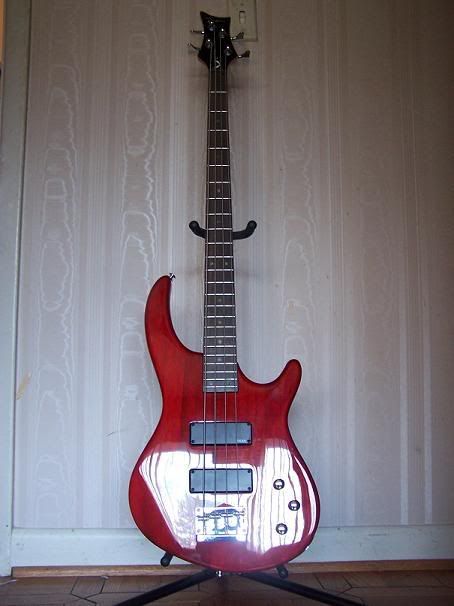 Join date: May 2003
30

IQ
Good deal, I hope you enjoy your new bass. Let us know how it plays!

PS Sell me your Peavey...


Join date: May 2006
103

IQ
Nice, looks very sexy. And what's a few bumps and scratches for that price?

How does it play?
It plays quite well actually, not as good as my Peavey, but that was expected. I'm probably gonna slap some new strings on it and lower the action a tad, but other than that its definitely worth the price I paid for it.
Last edited by Pysmone at Feb 21, 2007,
it looks good my friend just got one

Looks pretty bad-ass.

Cheap guitars because of bumps and scratches are awesome! My friend bought one and saved £150 because of a tiny scratch on the head...