No Sound Coming From Guitar
I was playing and my sound was cutting in and out until eventually it just stopped. It's not the amp because I've tried two different amps and its not the cable because I've tried numerous cables. I was thinking a wire could've broken but was wondering what everyone else thought. I don't really mind because I was gonna upgrade this guitar very soon anyway but advice appreciated, thanks.

Join date: Jul 2006
160

IQ
Probably a loose/broken connection on the input jack, so check that first, as long as you have common sense you won't damage your guitar by taking out the input jack.

Join date: Feb 2006
100

IQ
what guitar? if it has active pickups you may have to change the battery. Other then that it's probably a loose wire somewhere
They're not actives so it probably is just a wire.

Join date: Nov 2006
36

IQ
is it plugged in??
have you turned the volume up?
is the amp on??

im not taking the piss
these are a few of the reasons our lead guitarist thought he'd broke his guitar.
I've tried probably everything that would be overlooked.
like said, check that both are still connected. especially if uve ever tightened the jack
Just removed the jack and found that the black wire snapped.
i need to pick up a soldering iron kit. follow the directions on the package.

it's about $15 and 3 mins work.
Just curious could someone tell me what the black wire goes to and what the white one goes to?
yeah the black wire goes to the center most lug. that's the ground.
the white (hot) goes to the other lug.
let me find another pic for u.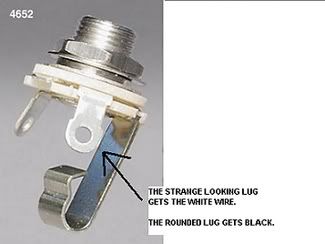 here's a madpick pic...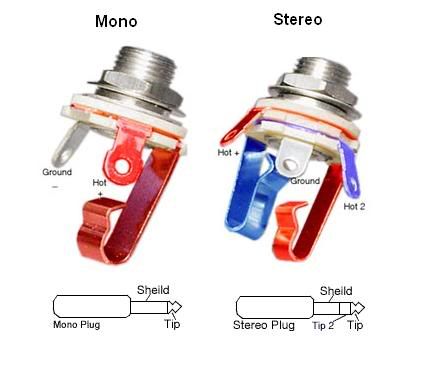 Last edited by jj1565 at Mar 3, 2007,
no problem. even if u touch those wires to the lugs ull get noise. ill need the solder to hold them there for good tho.
repost if uve got any other questions