Using an EQ pedal with the OD channel

Join date: Nov 2005
75

IQ
...I'm doing this to remove some of the 'muddiness' from my sound; I've got a Laney LC30 MK II and while I've always beeen very happy with the clean channel, I've never really been able to get the sound I want out of the OD channel - it's always been a bit too dark and muddy for me, even with single coil guitars. I've tried loads of different OD/distortion pedals - all the ones that you guys are constantly recommending (tubescreamers etc) and though they do tighten up the sound quite a bit, you always end up losing a lot of that tube amp niceness - particularly the warmth and the responsiveness.

Anyway, today I was messing around with a Boss GE-7 EQ pedal I've had lying around for a while and I tried it out on the Drive channel, all I did was cut the lowest 2 bands on the EQ and boost the overall volume a bit - I didn't use any treble boost - and there was a big improvement in tightness and definition without any real loss in warmth, it was a lot closer to the sound I'm after.

So, does anyone else here ever use an EQ pedal this way? If so, which pedal do you use and what settings?
I cut some of the low end using my Behringer EQ as I found my Les Paul to a bit muddy at times. It helps.

Join date: Nov 2005
75

IQ
Cool, I was going to buy another distortion pedal, but I've just ordered one of these MXR M-108 10 band EQ pedals instead.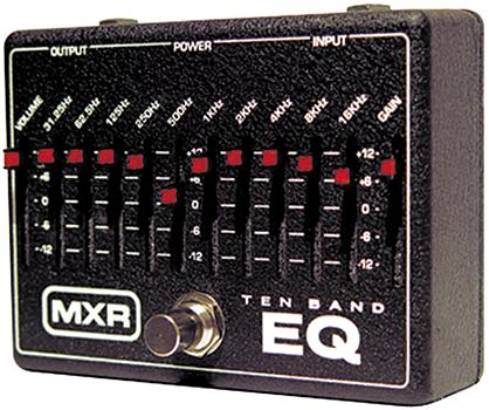 Awesome. Yeh I was gonna get one of those, but after I bought my £15 Behringer EQ700 I decided it would suffice for now.