Intonation?
Hi,
I read somewhere that fretting the 12th fret should give the same note as the open string. It's an octave higher. And I tried it with my tuner.
I tuned all string like I normally do, and then fretted the 12th fret and tried it. But almost every string at the 12th fret was way off.
And where I read this thing, there stood, if you encounter the same problem as I just explained, your intonation isn't right. Or something like that.
Is this a big problem? And if so, how do I fix it?

(If needed: Guitar type: Washburn X-10 normal bridge, I think)

Another question I have is...
What are good exercices to prepare playing harcore/metalcore?
Like for tremolo picking, what scales, and that kind of stuff.
(Some songs I should try, ...)

Would be nice if you guys could help me out!

El Marto
is it trem bridge? or is it fixed, (not a moving bridge.)

SETTING INTONATION: from icepoint...
Most electric guitars provide individual string length adjustment for setting intonation. Fine tuning this length insures that your guitar plays in tune all the way up and down the neck.

Using an electronic tuner, tune your guitar to pitch.
One string at a time, play the harmonic at the 12th fret and then play the fretted 12th fret note.
If the fretted note is sharper than the harmonic, increase the string length slightly until both notes register the same on your tuner.
If the fretted note is flat compared to the harmonic shorten the string length slightly until both notes register the same on your tuner.
Repeat the procedure on all strings until the harmonic and the fretted notes are the same.

- ill show u the screw to turn if u repost with ur bridge type.
you retune the open string after each adjustment.
and if u cant get a harmonic, u can compare the fretted 12th note to the open string.
Trem bridge
Thanks! But how do you do it?
Which screws do you have to turn, or something like that...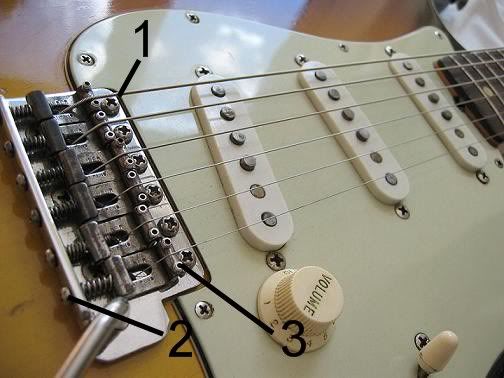 #2 is the intonation on this trem bridge.
ull check the open string.
then check the fretted string. adjust that screw until the fretted string seems closer.
then retune the open string.
then recheck the fretted string, turn the screw, checking, until it seems closer to in tune.
over, and over for each string.
small turns. this get's easier the more u do it.
project guitar is nice. butim pretty sure they dont even mention harmonics in their tutorial.

comparing fretted vs. open notes is fine. but it's important to understand that the harmonic will be spot on, in tune at the 12th.
Tnx jj1565!
I'll write this down and try it as soon as I can!
(Wednesday afternoon, I think.)
I'll lt you know if it worked.
And another question... maybe stupid
Is it bad if your intonation isn't right?
it's not bad for the guitar.
But u will sound out of tune if u try to solo on the higher frets.
some guys stick to the top of their neck, and wouldnt even notice if the intonation was off.
you're welcome. just repost if uve got any other questions.