Fender Jazz Pickguard Question
Hey Everyone,

I have a Fender Jazz Bass with a white pickguard. I would like to change it out. Just one problem. I do not have a chrome control plate on my bass. The pickguard is just one big piece that covers where the control plate would go. How difficult would it be to drill holes to add a control plate? Also will it affect the musicality of the instrument by adding these holes? I would really like to hear all of your opinions. Thanks.
What is it? The Mark Hoppus Sig? If it is or has the same pickguard, check eBay for aftermarket pickguards. I'm also pretty sure you can buy control plates and pick guards off there, too.

Join date: Jan 2006
81

IQ
There shouldn't be any major impact drilling the holes, as most J's have them anyway.
where did you get the pickguard?
I will put a pic up tonight. I have had this bass for about 10 years. I tryed to date it on the Fender timeline but I can't ever find another model with the full pickguard. I guess it is unique but I would also like to give it an updated look. It is a red gloss finish. Also what typ of drill would I use to make the new holes?

Thanks.
I really don't think you'll need to drill. I think that if you put the guard on with a control plates, all the holes will line up. I don't think Fender has too many routing templates.
Here are the pictures I said I would post.
The first is a close up of the body: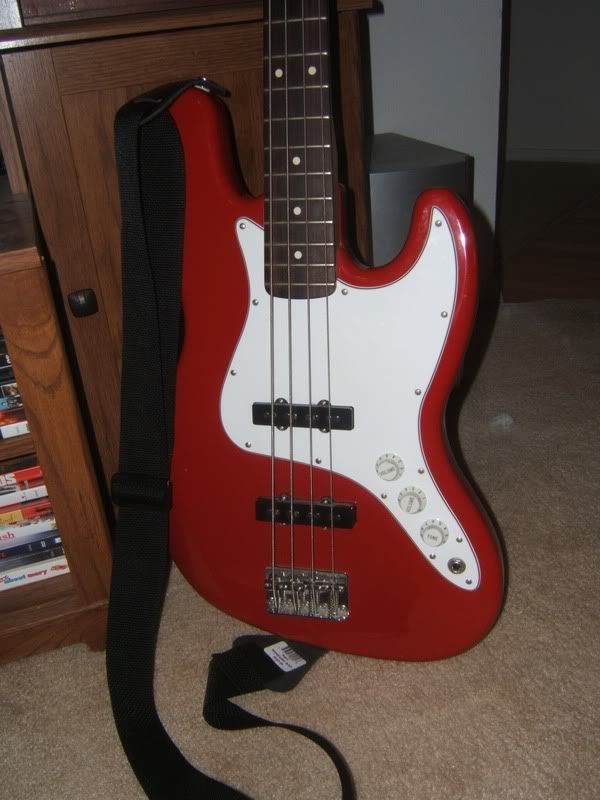 Here is the Fender head: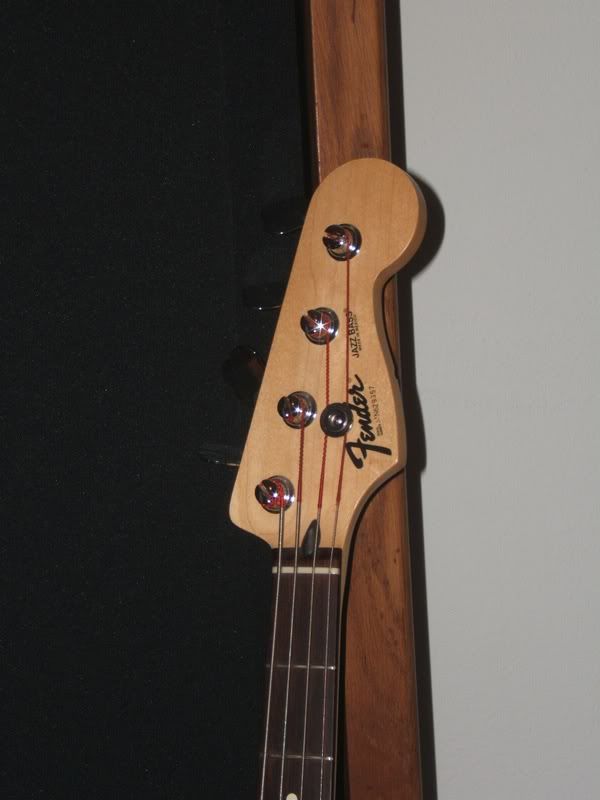 The whole thing:
The problem with the template holes are where the control plate meets the pickguard there are extra holes. I know a drill will have to be involved to make everything work. If I do make the change I was thinking about going with the red tortoise pearl pickguard with metal knobs?
Thanks guys for all your input.

Join date: Nov 2006
160

IQ
If its just you want another colour or something, get the old plate off and send it to a custom scratchplate company. I personally wouldn't change it for the metal plated one (looks cooler like that XD) but if you do, you would have to drill new holes, and these wont effect sound at all. Black metal dome knobs would look good, and a pearl scratchplate


Join date: Apr 2004
313

IQ
By making some wrong purchases I came to know there are several shapes of pick-guard for the jazz. When I went to the nearest guitarshop to get a replacement chrome control panel they gave me one that clearly didn't line up with the scratchplate. I don't know how many different shapes there are and what exactly are the differences, but I would advise you to be carefull to order parts like this by mail. Drilling some extra holes is only a minor problem. Other aspects of size and dimensions are far more important. Is the slot for the pick-up in the right place? Does it fit nicely around the neck? Does the edge match up with the body contours? These are the questions that have to be answered before you buy anything.