Best way to paint a pickguard?

Join date: Dec 2006
110

IQ
I know this belongs in the Customization board...but the community is better here anyway. I'll delete the thread when I get an answer.

On to the topic...I'm looking for some variation in my P-bass, and I was thinking a black pickguard (as opposed to white) would look pretty nice with the red finish of the wood. Does anyone know what paint I should use? Are there any techniques I should use? Or would it be worth it to buy a whole new pickguard via eBay? Thanks in advance.

Join date: Dec 2006
20

IQ
stew-mac.com has them for a good price i think

Join date: Jun 2006
250

IQ
Nah, don't buy a new one. Here's what you do. You buy a $10 bottle of PLASTIC spray paint. Before you get to the paint sand off some of the old paint just to get it a rougher surface. Now use your paint and give a LIBERAL coat over it. Wait a day and do another heavy coat. Then wait until it drys and screw the pickguard back on. It'll look brilliant. The biggest key is to buy specific Plastic paint!
Hit it with some pretty fine grit sandpaper. After it's good and scratched up Krylon it.
I'd get a new $30 PG off of ebay. They make some nice ones; clear ones, abalone ones, reflective ones, etc.
i'd buy a new one, but im lazy

Join date: Jan 2006
40

IQ
i've always wanted a diamond plate pickguard. those would look so cool.
Use
Even after 8 months or so, this trem cover still looks good: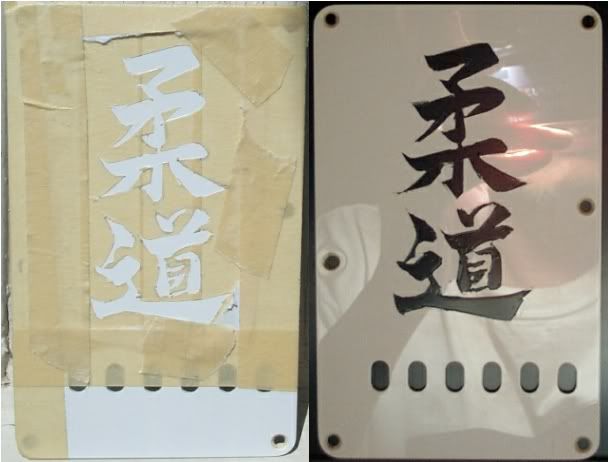 My painted PG: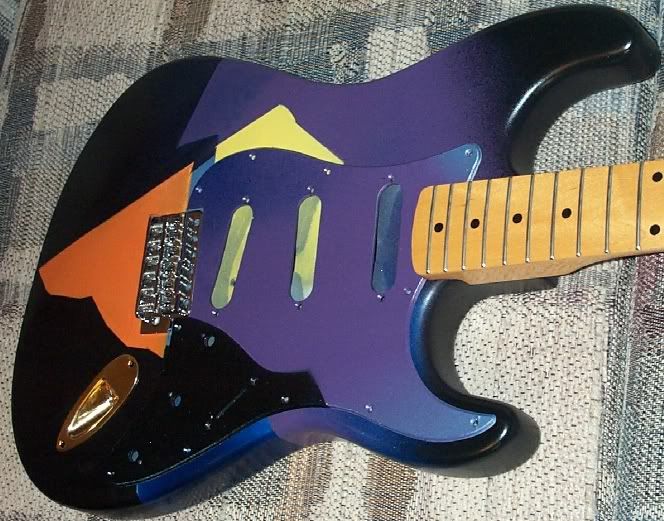 Use
+1 It appears to be good stuff. I used it to paint the pickups on my guitar build. The only caveat is to allow it plenty of time to dry. It takes about a week (according to the instructions) to completely harden.
Regards,
Rob

Join date: Oct 2006
130

IQ
i've always wanted a diamond plate pickguard. those would look so cool.
I'm putting one of them on my custom bass