So my Jack hole decided to fall through the guitar..
Yep, the wood around the Jack hole of my SG was really thin and getting loose and then this morning it just fell right into the guitar haha. I didn't know what to do since there was quite a big hole that it ripped so I looked around the room trying to improvise something....one thing led to another it turned into this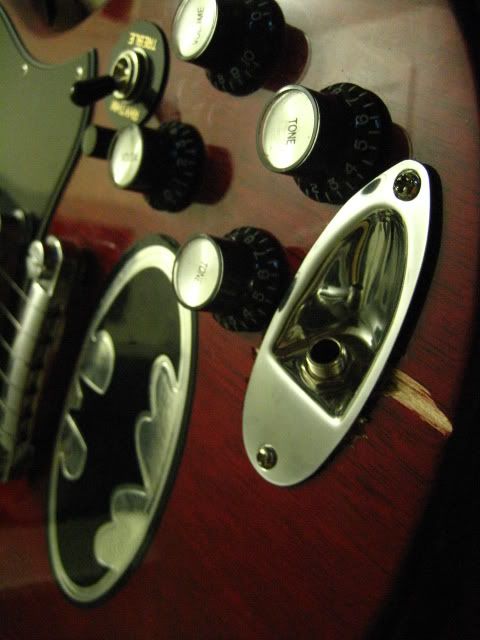 haha, what do you think? its quite a mess I know but its actually really sturdy.
lol, you should put some wood filler in that crack or somthing :P or atleast texta it in with brown texta

Join date: Jul 2005
10

IQ
The BATBRIDGE is Sick!btw. actually looks pretty decent. too bad about the small chunk of wood taken out on the front. is it an epi or a gibby? post a zoomed out pic (still really diggin the bat symbol.)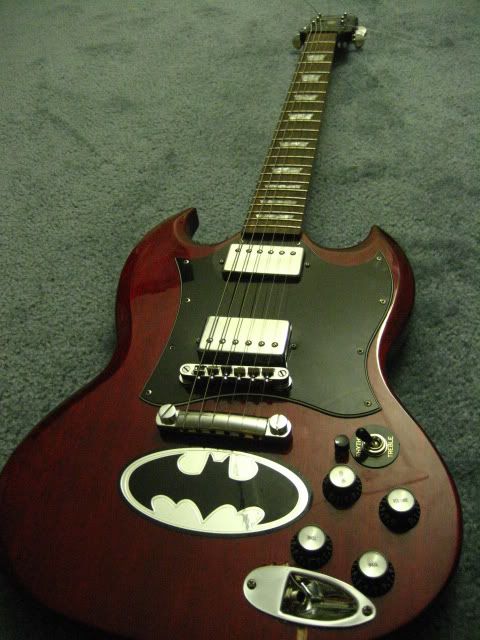 It's just a epi. I don't think Gibson SGs would have their output jacks fall in like that haha
You need to make that look more ghetto. Like, cover the pickguard in duct tape. Taking of the bridge humbucker's cover would look totally sweet too.

By the way, what's that little knob by the selector?
You need to make that look more ghetto. Like, cover the pickguard in duct tape.
lol, that would make it look crappy
Yeah, I guess. That is kinda pushing it... Maybe covering an end of the strap in duct tape would look better.

Maybe rough up the finish a bit.

Join date: Jun 2006
110

IQ
Why a strat jack on an SG, WHY GOD!?
It was all I had laying around haha I knew someone would say something like that sooner or later

. The little knob is a kill switch.

Join date: Nov 2006
151

IQ
It's a cool repair job but the strat jack on an SG looks so ****ed up.
looks fine to me! Better than having a gaping hole in yer guitar.
Hmm I just noticed something. After I soldered all the wires back my output seems to be lower than ussual. Normall I would just go to 5 to be loud now it needs to be at 8 to hear, also not mentioning the hum. This is from the clean channel. Is the metal sleeve causing the problem?
Maybe you switched the hot and ground to the output jack by mistake?
i love that hahaha
nice zakk wylde string job over the stop tail too

Join date: Apr 2006
61

IQ
That could have looked really good if it wasn't at such a horribly awkward angle. Also, break a red ballpoint pen over that huge chunky hole in the finish. It won't repair anything, but it'll dye it a good bit, and it won't stick out like a sore thumb. Plus, it won't wreck anything if you decide to have it properly repaired some day, and it's cheaper than buying actual dye.
I would just leave that bit, no repair looks better than a terrible one.
Okay I found the problem, part of the jack on the inside was touching the wood wall which I guess grounded things a bit? So I just stuck a folded piece of paper between it and the wood wall

I'll get around to smoothing it one day I guess.