string gauge advice please
im wanting to try out different gauges of strings, but I heard that I would have to alter my truss rod if i wanted to alter the gauge, is this true? atm I have ernie ball regular slinkys on (10 - 46) and I want to try out some ernie ball skinny top heavy bottoms (10 - 52), would I need to adjust the truss rod to fit some of these strings?

Join date: Mar 2007
80

IQ
Since you are sticking with 10's prob not.

Join date: Sep 2006
344

IQ
10s no. when i put 11s on my ibanez, it pulled the bridge up and i had to buy more spring for inside the guitar. the guy who did it. unscrewed the belt guard (panel on back of) and put more springs in to support the bridge w/ high guages. its also harder to whammy w/ higher guage
you arent adjusting the truss rod to "fit the strings" u adjust it to keep the neck straight enough for low action, even when thicker strings are pulling at the headstock, and curving the neck more.

it's impossible to know for sure. 10-10's would be fine. but bottom heavies might make sthe strings feel farther from the board.

also like said, with a trem bridge, it's more likely that a bridge will lift first. TOM bridges, not a problem.

to help keep the guitar more stable. swap one string at a time. not all at once.
IMO i'd never go above 10-46... higher gauge than that and you're risking doing damage to the guitar.

Join date: Mar 2007
20

IQ
I use 13-56, but I still break strings like crazy!! I have a "problem" with playing to hard.

Join date: Mar 2007
20

IQ
BTW Chtpofdarkness it's not the strings that are making it harder to use the whammy bar on your guitar, it's the amount of springs for your bridge, the gauge strings you have are barely making any difference.

Join date: Mar 2007
10

IQ
I got 11-48s the other day, weird at first, but tbh they sound fricking great now. Fairly comfortable too (at least more comfortable than when I started).

Join date: Jan 2006
30

IQ
You shouldn't need to adjust the truss rod, you may need to intonate it and possibly lower the bridge though.

intonate? it isnt a floyd i have, just a normal bridge
all electric bridges can be intonated.
it's just making sure the guitar is in tune at the higher frets. so it doesnt sound off when u solo, ect.
to check , u would tune the open string. then fret the 12th fret same string, and tune that.
you are checking to see if the two reading match.
if not, ud adjust this screw with a TOM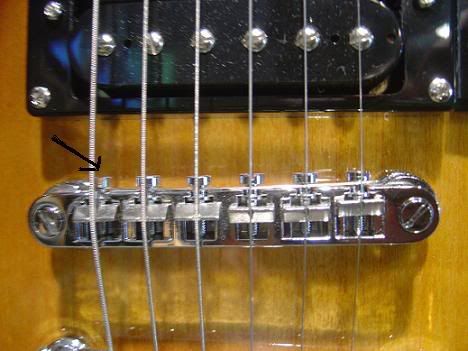 until they do.

Join date: Jan 2006
30

IQ
Also note that once you increase string guages, the nut will begin to groove itself to the larger string size. If you return to a lighter gauge later on, your guitar may begin to buzz at the nut.

ahhh I see now, thanks a lot guys, think im just going to stick with 10s for the time