Different Floyd Rose?
I bought this guitar for $175 at my local guitar/drum shop. I only bought it because it has a floyd rose that i wanted to have experience with and because it was such a good deal for what the shop owner says is a great guitar. This looks like a different floyd rose though. It might just be an older one. Is this a different kind of FR or is it just old? Thanks.. PS: It is a Yamaha RGX612S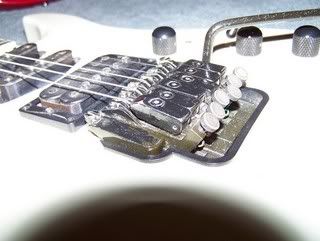 That looks very weird...does it even go backwards? From those pictures, the pocket looks very shallow.
Yeah I can raise the pitch a bit. And when I unlock the locking nut, I can just tune and not have to unlock anything at the bridge.. Atleast I don't think I do on this..
It certainly looks like a "early" Floyd Rose trem.
Does it have "Floyrd Rose" on it? Coz' it might jus be a Yamaha custom FR.
Join date: Jan 2007
70

IQ
Yamaha FR or OLLLLD school floyd, but still great to learn from it. They are basically all the same thing.
Where would they label floyd rose? Its not on the headstock or the bridge..