Rear routed Strat body
Hey, I'm thinking of making a strat with the wish you were here logo (the two robot hands shaking) painted onto it, (I wouldn't be doing it myself).
I wanted to have the body rear routed so the picture isn't obscured by a pic guard. However the only place I can find a rear routed strat body is warmoth for about 90GBP, I was wondering if anyone knew of anywhere that does them for any cheaper, either in Britain or that would deliver. Or, would anyone on here be willing to make and me sell one?

This is not definite; I am just looking to see how much it would cost. If I do end up doing it, it would probably be about another year before I do, due to funds. (I'm in 6th form with a very unreliable low paying job, and will be learning to drive soon).

Thanks in advance.

EDIT: Sorry, for SSS pickups.

Matt
Last edited by Pink_Zeppelin at Mar 18, 2007,

Join date: Aug 2006
191

IQ
what type of pickup routing are you looking for?
Some of the local shops here sell rear-routed Strat-like bodies ... here's one in Ash, beautiful! They usually range from ~$100 to whatever, so if you have a buddy here in the US, you can work something out.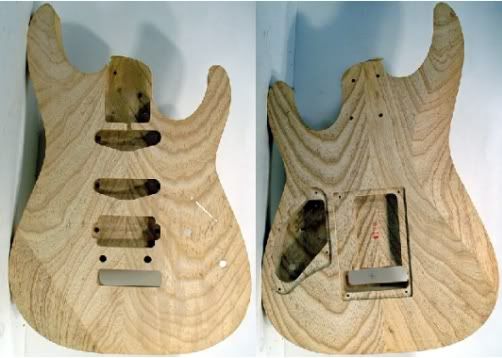 No i don't know anyone at all in the US, and if it helps quotes or anything I was looking for alder or maybe ash. Thanks got the help so far.

Join date: Nov 2005
10

IQ
Yes but then I would have to get the right part of the picture onto the paper and line it up perfectly. And also buy the pickguard. i think it would be alot easier to get the body rear routed. But thanks for the suggestion anyway.