Strat Tremolo Action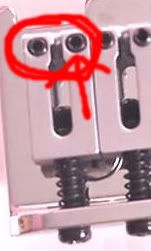 tiny allen wrench, raise those pegs to lower each saddle.
phils pic
dont bump after 2 minutes. and post questions in the correct section.

do u want to lower ur action? (string height)


or lower the bridge cause it's lifted?

or is the trem arm not sitting correctly for some reason?

Join date: Sep 2006
20

IQ
He may have a 2-point trem

If you do check and see if at the top you have 2 allen wrench spots to lower or lift the bridge mechanisim up.
2 point strat trem is still saddle up and down.
floyd is 2 post. and his sig says standard strat.

Join date: Sep 2006
20

IQ
Thats for the action though

Adjusting the height of the bridge is what he is asking about I believe. Which would require the 2 posts to be moved. With 2 point trems on a strat you can vary the play quite a bit allowing for nice bend ups with the bar.
i see what ur saying. i think u're over thinking this tho.
im just going to wait for his next post