VF-10: Kerry's New Amp Design
Hey UG,
I have started a design for a Class A (Single Ended) tube amp. It's called the VF-10. It will be 5-10 watts so that it can be the perfect volume for cranking.
Heres some of the ideas of how it will sound, the design, and features:
*
Vox-like Preamp: Pentode gain stage at the input and triode gain stage later on. The pentode is like what was used in the old Vox AC15s/30s. Triode gain stages are what are mostly in other amps. This will give me a medium-gain voxy preamp.
*
Fender-like Poweramp: Single octal power tube to put out 5-10watts. In this power tube slot, a 6V6, 6L6, EL34, 6550, or KT66/77/88 can be plugged in for different tones. I chose this so that it can have nice Fendery break-up when cranked up.
*
Controls: Volume to adjust preamp volume, Compression to adjust the compression, Vox style Treble and Bass tonestack, Master Volume to adjust the master level, Raw switch to turn off the tonestack for natural tone, and Master Volume off for removing the master volume.
*
High Quality Components: Carbon Compound resistors, Mallory 150 style capacitors.
*
Tagboard Construction: Tagboard point-to-point wiring like the vintage Voxes. (
http://mhuss.com/AmpInfo/images/VoxTag.jpg
)
I have ordered all the parts for my preamp to build, so I will post pictures when I get it. For now, heres a picture of the Tagboard strips I will be using. Yes, thats a VJ Board I am modding in the background.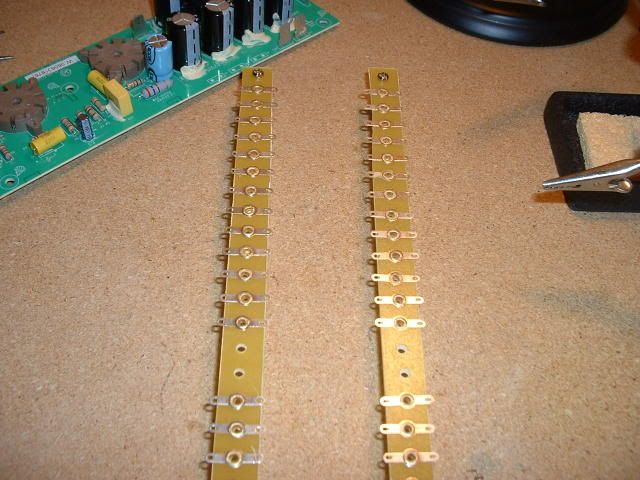 Kerry