The ULTIMATE Guitar Setup Q&A thread & how to string a guitar
pretty simple. if uve got a guitar setup question, feel free to ask here.
so far, Madpickin and i have been able to check in daily for questions.
all i ask, if you dont know the answer, or if you arent 100% sure, then dont post here.
regulars will be checking this thread often, so no spam please.
if u have a problem or question involving:
action, fret buzz, intonation, neck angle (truss rod), bridge lifting, faulty input jacks, tuning stability, bad switches, trems, nuts, dented or dead frets, ect, this is a good place to post.
ok good luck, let's see how this works.
good luck, jenny.

for FLOYD QUESTIONS check out the New Sticky at the top of the page

FLOYD QUESTIONS CLICK THIS!
Some tools you can start Collecting for your setup kit.
- A small plastic tool box.
- An electric tuner
- String winder / cutter tool
- A capo, not a bad investment if you play anyway.
- A universal Allen tool, in metric and in inches.
- An accurate, high quality 6 inch
metal
ruler with 64's and 32nds increments.
- Small screw drivers and
Micro
screwdrivers.
- Set of feeler gauges, .009 to .018. and
metric.
auto parts store
.
- planet waves headstand, neck support.
- roll out mat, pad or rug.
FOR SIMPLE WIRE WORK
- electrical tape, duct tape.
- soldering iron kit. ~35W, something that comes with a heat clip and stand.
- 60/40 solder.
thanks Zep_shizzle for the tool kit idea.
Sid suggested i add a few pictures, and some info in the first posts that might help.
this is still a Q and A, so feel free to post if you have any questions.

Adjusting Action, fret buzz, dead notes
on a TOM: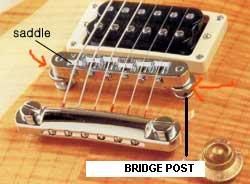 detune a little,
loosen the screws at the top of the bridge posts,
(some TOMs don't have screws on top)
that should loosen the thumb screws enough so you can spin them up or down, (thumb screws pointed to by red arrows)
then tighten it all up again. questions? please post.
Strat style: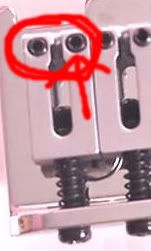 using a tiny allen wrench on the two pegs, front face of each saddle. lower them to raise an individual string. questions about keeping saddles level? please post.
if your trem bridge is lifted after changing string gauge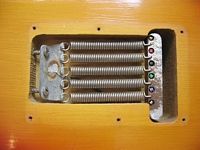 tighten the trem screws and / or add springs. dont put too much stress on those screws. not sure how to arrange the springs? please post.
if your output jack is loose, or output is cutting out and it's not your cable
Neck Relief:
Adjusting your neck
This is not action adjustment. That's done at the bridge.
A neck adjustment usually helps when a bridge adjustment can't get the the job done like: strings not low enough, or if you have fretbuzz that doesn't go away.
Please do not turn your truss rod without posting first. But here's a good way to see if you might need a neck adjustment.
with a balanced bridge...
fret the Low E on the first fret.
then - at the same time,
fret the Low E on the last fret, where the neck and body meet. ~19th fret.
with both places held, look at the middle frets, 7-9th
If the string lays on the fret wire there, you probably do not have enough neck bend.
If the string is more than a credit cards thickness up from the wire there, you probably have too much.
ideally, see if a thin-medium pick fits in the middle gap.
Intonation
SETTING INTONATION: from icepoint...
Fine tuning String Length Makes Sure that your guitar plays in tune all the way up and down the neck.
Using an electronic tuner, tune your guitar.
One string at a time, play the harmonic at the 12th fret and then play the fretted 12th fret note.
If the fretted note is sharper than the harmonic, increase the string length slightly until both notes register the same on your tuner.
If the fretted note is flat compared to the harmonic shorten the string length slightly until both notes register the same on your tuner.
Repeat the procedure on all strings.
just to add, if you can't get the harmonic to match the fretted 12th, compare the
open string note and the fretted 12th note.
be sure to tune the open string after each intonation screw adjustment.ANOTHER WAY TO Explain Intonation
:
-Play the harmonic at the 12th fret, listen closely to the resultant pitch
-Now play the same note by fretting the note at the 12th fret. The two notes should match exactly if the intonation is correct.
-If the fretted note sounds sharp, then adjust the bridge saddle so that it moves back away from the fingerboard.
-If the fretted note sounds flat, then adjust the bridge saddle so that it moves towards the fretboard.
- again, tune up the open string note after every screw adjustment.
thanks for suggestions 311!
intonation screw
#2 in this strat pic:
http://i12.photobucket.com/albums/a230/jj1565/59_Strat_bridge_controls.jpg
TOM intonation screw pic:
http://i12.photobucket.com/albums/a230/jj1565/DSC02317.jpg
Adjusting pickup Height
=Blue lines in pic.
small turns, don't dont want to unscrew the screw from the pup.
too high and you might get a muddy tone. (and sustain loss)
too low and you might get volume loss.
just right for extra bite. yes, the pup can be tilted closer to thick strings for more bass, closer to treble side for more treble. some poles, with screw heads are adjustable for tone "fine tuning". dont go lower than flush to the pup.
depends on your preference.
Questions about anything? please post

Last edited by jj1565 at Apr 9, 2012,