Quick cab question
I guess I didn't really need to put this in the bass forum, but I feel more at home here, so here goes:


How do I mount casters onto my cab? It looks like there are only metal "bashguards" on each corner of the cab, held on by screws, but it doesn't look like I could just swap those for a caster.

Does this mean I have to drill holes into the enclosure to fit the caster? Isn't that bad for the cab?

Join date: Oct 2006
140

IQ
I would guess you will have to drill holes, unless you can find cornerguards with castors on already. Drilling holes shouldn't affect the cab I don't think, it's just like drilling a hole for a thumbrest or pickup cover on a bass.

Join date: Oct 2006
20

IQ
$85?! Way to extort poor musicians
Join date: Jan 2006
122

IQ
I think drilling holes is a must, but it shouldn't affect the cab at all. You should be good to go


Join date: Feb 2007
20

IQ
You can just holes and use T-nuts to accept the bolts. If it is a heavey cab you may need an extra 1x for support inside the cab. You can also opt for kickback casters on the back and ad a handle. It isn't hard to accomplish.
Here is a pic of one of the cabs I build with the kickback casters.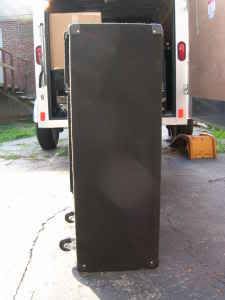 I think I might just fashion a platform with casters on it