Annoying grey spot on my guitar neck
Ever since I bought my guitar I noticed these stains getting darker over time and it's reaced the point where it becomes annoying to look at. How would you guys go about fixing this? The neck is waxxed for all I know and it's got a nice grain I'd love to keep

It may not look so dark on the picture because of the camera flash.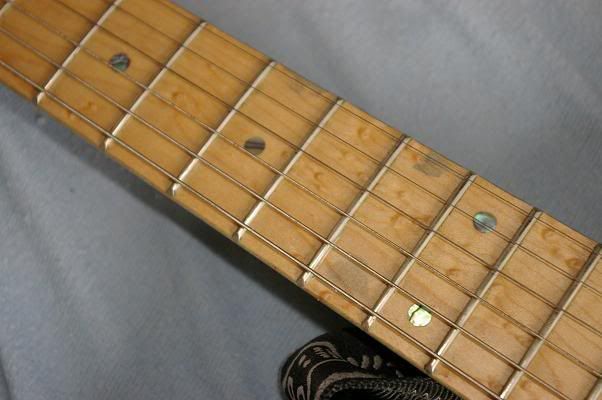 have you cleaned it recently?
Its a maple board. Get some guitar polish and a rag and clean it up. On my old tele I used a toothbrush and steel wool to shine up the frets and some guitar polish I had laying around to clean the board itself since it was finished. Don't use lemon oil on finished maple boards though.
I do think I would get it clean, but wouldn't the stain come back later? I fear something is wrong with that wax layer. I'm deffo going to try to clean it now.
By wax do you mean the neck is finished? Maple necks are usually finished with a clear coat which this neck should be. If thats the case the stain should come off of the neck with a bit of cleaning. There shouldn't be anything wrong with the finish itself its just normal build up when you don't clean down the guitar. Just don't scrub to hard. You can start to wear down the finish on the fingerboard if you scrub to hard when cleaning.

Join date: Jan 2007
61

IQ
Wax sometimes has the tendency to hold on to dirt and stuff. I have never had a "waxed" fretboard though, but I have had to use oil on a couple of mine (only on the VERY new fretboards).
Join date: May 2006
230

IQ
Have you seen the condition of Paul Gilbert's maple fretboards? Lots of playing = sweating = skanky build-up and marks.
Right, I've tried cleaning it with some water and a towel and it has become a little bit lighter, but not much. I'll have to buy some guitar polish and try it again. Is there any household product that could do the job though?
I've heard of people using houshold product but I never have or would recommend them with a clear conscience.
Are you sure that the finish is not worn down or thin in that spot? Because bare maple will turn black/grey over time due to sweet, dirt, and oils from yourhand.
I do think so because it feels rougher than other parts on the neck.

It doesn't look like there's any finish on that bit...That's the actual wood you're seeing.
Thats what happens to relic maple boards. The corrosive sweat and oils on your hands has eaten through the clearcoat. Nothing that I know of that you can do other then a complete neck refinish. The reason its grey is that the now exposed maple wood absorbed the oil and dirt from your hands. Try cleaning it with some abrasive polish and rubbing the grey out then clean the neck EVERY time you play to prevent it coming back. Btw that looks like a Carvin, nice!
Ah man

. Isn't it possible to apply to some kind of finish only to that spot? Clean it and redo only that fret. Or would it leave a big colour change? I could just leave it and live with it though.
Oh and it's not a Carvin but a Fender Lite Ash strat.

they make lacquer touchup kits, buy from somewhere like stewmac. and naptha is a great cleaner, always clean before you polish.
Nice

. And yea I forgot about touch-up kits. Go to
www.stew-mac.com
and look there.

Join date: Apr 2004
180

IQ
The finish is coming off. How did lots of people who posted before me not know that? It's not dirt on the finish - it's dirt getting into the wood's pores and making it look dirty.

Join date: Aug 2004
170

IQ
Are you sure that the finish is not worn down or thin in that spot? Because bare maple will turn black/grey over time due to sweet, dirt, and oils from yourhand.

thats whats happening, and its the ageing process.
my jem has no finish neer the heel anymore, its going green lol!!
Coming back to this topic I've decided to try to clean it as good as possible, sand it a bit if I have to and put a new coat of laquer over it. I'm probably going to do the whole neck to prevent further decay, even though it isnt that old yet. Now is it OK to put two kinds of laquer on top of each other?

I've looked at stew-mac but shipping a touch-up kit overseas is going a bit too far for me.