Flame Top Stratocaster
Hey there kids. This past week I decided to start up a new project for the summer. After my last double-cut telecaster project went down the ****ter, I really wanted to make something I could be proud of. I looked around for something unique and fun and I stumbled across a stratocaster body with a flamed maple top. So $65 later I now have the body in my possession. I'm pretty impressed with it.
Here's a pic of the top after being wiped with a damp towel. The flame pattern is actually really nice.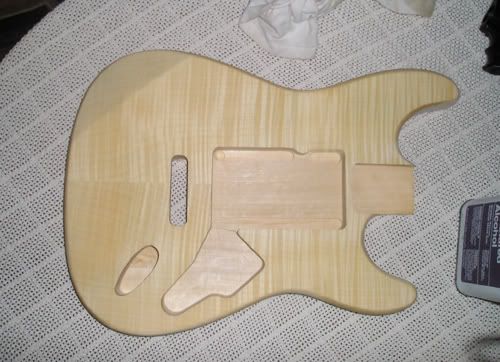 I haven't really decided much else as far as stain, hardware, but I have decided to just use an old loaded MIJ strat pickguard I've had laying around for quite some time. I've been looking around for a maple neck and I should have one by next week. But any suggestions you guys might have, I'd love to hear them.

Join date: Jul 2006
261

IQ
that is nice. Vintage three-tone-Sunburst ftw for that one.

Join date: Dec 2006
10

IQ
that would look really nice with a dark blue around the outside, slowly changing into light blue on the inside.

Join date: Jan 2005
159

IQ
You could try an uncommon coloured burst, like green or a multi-layer multicolour burst.

The classic three tone is always a looker, especially with a slightly aged pickguard and knobs.

Join date: Aug 2005
100

IQ
Light purple stain, gold hardware!
.
It's a beauty. See through black please.
3-tone sunburst FTW, great looking wood.
$65?

Did you find the holy grail of flame-top bodies or something? Please post a link if there's more.

That thing is SWEET looking.

Whatever you decide to put on it, make sure you can really see the grain. I'd even like that in a an all-natural look, sort of a honey colored stain... but a burst will look best.

Join date: Mar 2006
70

IQ
That is ridiculously cheap.

Consider a 2 tone sunburst as well. Looks really classy imo. Although gold hardware can look nice with that colour i think id prefer it without.

Id suggest aged cherry burst as well, but thats a fairly common colour and you might wanna do something a bit different.
Join date: Mar 2006
428

IQ
Dragonburst! I saw some a pic of a Dragonburst carvin around here one time and it was great (Blue on the outside green on the inside I think it was)
Light purple stain, gold hardware!
definatly
Imo. route it for floyd rose, and make it HSS with some SD's. Throw a classic stack in there with a JB. That would be some pretty awesome stuff
Dragonburst finish looks sweet
This is pretty nice too
This is my favorite though
(Invalid img)

Join date: Nov 2006
80

IQ
It's a beauty. See through black please.
Transparent Black FTW!!!
to PikkaBird, yes, it's a different pic

Transparent Amber maybe?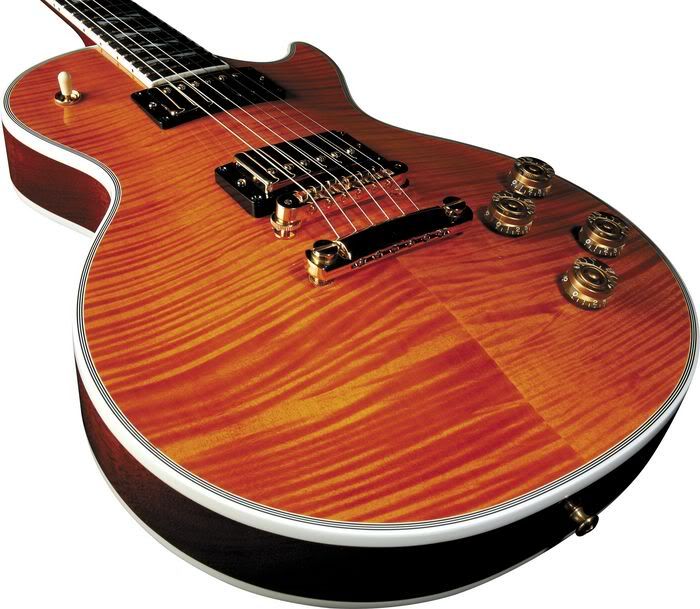 Wow, great suggestions guys. The 3-tone burst is probably my favorite right now. Something with a amber, to dark brown, to black. I'm relitively new to staining and dyes so I'm going to practice a little bit before I dive right in.

I did get the body pretty cheap, one of my fathers old classmates was or is still a luthier and he's giving me great deals on things he has lying around his shop. He left a messege on my phone last night about a paddle headstock neck he might let go for cheap. I'll call him tommorow.

Also, I was wondering if a local shop like Home Depot, or Menards will have wood dyes? I assume they would, but I'd rather just save a trip by asking or calling them.

Keep the suggestions coming.
Well, I searched on the home depot website, and I know they have stains and sealants(sp?), but when I searched for dyes, all I got was printers.
Since when does Home Depot sell printers?

Join date: Jun 2007
10

IQ
sell one to me!!!
how much??
Well, $50 and a two hour roundtrip drive later I have my neck!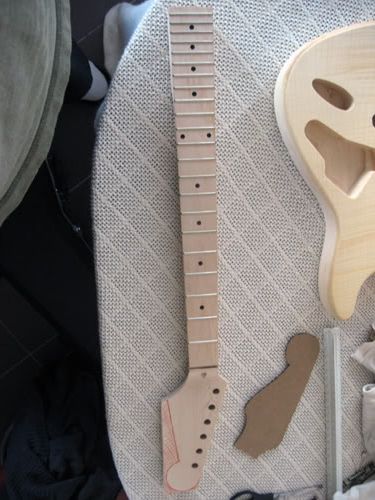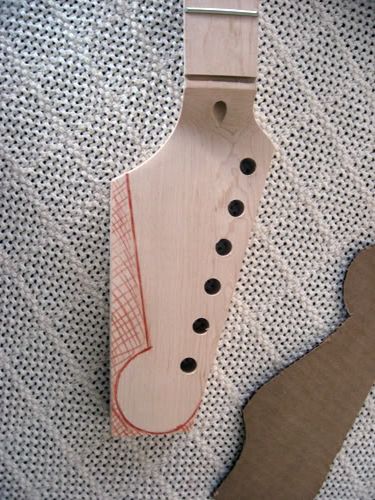 I just got done outlining the headstock. It looks real good. I'm very excited for this project to get going.
I still haven't done much research on where I'm going to get my dyes, but I suppose I have time.
I talked to the luthier I've gotten my body and neck from so far, and he told me he has a few other things I could get from him if I need them. He has a bridge off a highway one he'd let me have for cheap, some tuners, and maybe some other little stuff. I've been calculating it and I think I'll be able to complete this build well under $400. Which makes this starving college student very happy.


looks good so far
You got a pretty sweet deal on the body and neck, too.
Nice flame on that. I personally think that the dragonburst with a white pearloid pickguard would be amazing.
Damn, man... those are nice parts even if you paid a chunk of change for them.
even if you paid a chunk of change for them.
Maybe I'm misunderstanding you? I got the body and neck for a total of $115. Not a bad deal IMO.
Yeah, you can't hear my tone over the internet. You got a WICKED deal on those parts. They would still be nice if you had much more for them.
Today when I came home from work I found a package at the front door. Inside was a bridge off of a Highway One stratocaster.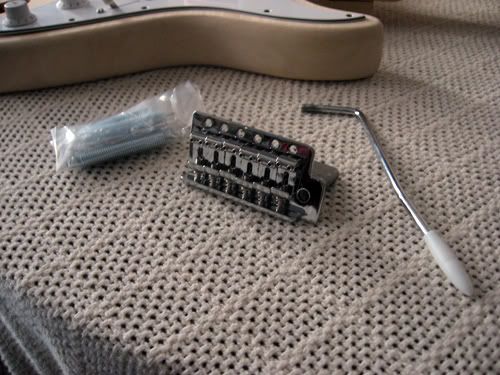 Only another $50 and I'm well on my way to completing the project. Here's just kind of a mock-up with the bridge and the pickguard on it.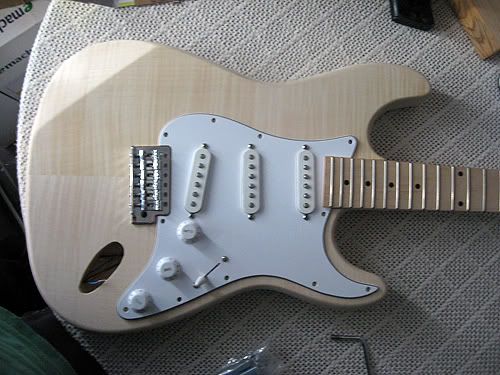 The only few things I have left to get are some tuners which are on route to my house and should be here sometime this week, output jack and output plate which a friend of mine is giving me, a nut for the neck which I'll pickup after I have the tuners, and then of course the wood dyes which I'm still not 100% sure on where I'm going to get. But as far as ideas for a stain I've been searching around for examples and I've taken a liking to the aged tiger finish as seen on the Joe Perry LP.
Any tips or suggestions are welcome.
Hey there guys, I went and picked up a nut for the neck today and I was just wondering what sort of glue I should use to attach it to the neck? Would regular super glue work or should I use something stronger?
dragon burst would look awsome

Join date: Jan 2005
159

IQ
Hey there guys, I went and picked up a nut for the neck today and I was just wondering what sort of glue I should use to attach it to the neck? Would regular super glue work or should I use something stronger?
I believe the string tension should be enogh to keep it there, no?
I've never done anything like this, but my Godin's nut seems to stay put without any glue.
Just put a dab of wood glue on it. Not much at all though, that way when you take off your strings, your nut wont fall off. Plus I would just fell better knowing that its glued on.

Join date: Nov 2005
10

IQ
Is that a solid maple top or a veneer?
The last nut I did, I just pressed it in. It was a little too tight for the slot, so I filed it until it fit very snug.
Veneer. I did some staining tonight, it's looking pretty badass if I dont say so myself. Pics will be up either later tonight or tommorow night.
Not a big fan of the LP in the pic there. The brown looks too.... paneling colored.