Tell us why your favorite guitarist is your favorite

Join date: May 2007
90

IQ
Yes, it is all opinion, people. But give a few words to let us know why [Insert pluralized guitarist name] is your favorite, or the best, etc.
Don't just post the name. Tell us why you think they are amazing. If you can't decide on just one, tell us about two or three.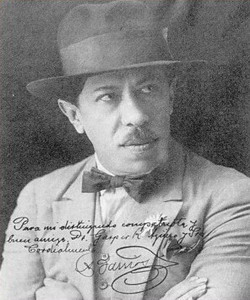 Agustín Barrios Mangoré, The great paraguayan guitar composer (1885-1944) in my opinion, is the greatest guitarist I have ever heard. His compositions flow beautifully. The require an extreme virtuosity of the guitar. By far, the most difficult composer Ive heard.
Unlike many composers, his compositions are of equal value, whether it be Minor or Major.
La Catedral III
His compositions, unlike many non-classical guitar pieces, don't make there way around difficult fingering.
I agree with everything Williams says about Barrios.
He is dressed oddly in the third picture because he is supporting his country of Paraguay.
Not only is he the most skilled guitarist I have encountered, but the best composer of his instrument.