Epiphone Les Paul Classic Plus HCS FS/T
For Sale or Trade is my recently upgraded Les Paul Classic Plus in Heritage Cherry Sunburst. It is a 1998 Korean Epiphone (not a crappy no-name brand). Pick Guard, Gigbag, and original pickups (by request) will be included. Newly installed Zebra Pickups (14 K Bridge, 12 K Neck), and Dean Markley Blue Steel (.10-.46) Strings.
I'll add more specs later because I'm short of time. But you'll be able to see the condition of the guitar by the pictures.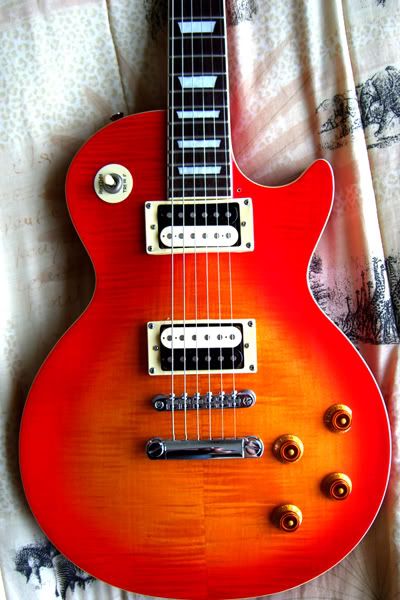 (Ignore my Xiphos).
Acceptable offers include:
-Fender Telecasters/Maple Boarded Stratocasters
-Ibanez S series (ZR Trems), Upgraded RG's, Black Icemans
-ESP/LTD 250-400 series
-Gibsons (non low end because QC is crap) -I'm not expecting much in this department
-Jackson XT, Pro, or MG series (No JS30's)
-Schecter C shaped set necks with Duncans or other

Also, I have bag of pickups for sale or trade:
-DiMarzio PAF Pro (Cables need extensions)
-Epiphone Stock LP Alnico Pickups B & N
-ESP LH-200 Bridge Pickup out of an M-II
Last edited by maxdgad at Jul 16, 2007,

Join date: May 2007
130

IQ
would you trade the xiphos
The Xiphos is only 3 months old so I'm not getting rid of it anytime soon.
looks nice but i'd rather have a ZR or hardtail bridge if it has to be an ibanez
That fine. The ZRs come on the S line. Mine has the SAT 30 lock down on the body.
Any response to my offer?
I think we went over this in an earlier thread about it not being black.....
Sorry, didn't realize that was you.
bump....I added a list of acceptable trade offers in the first post
is the paf pro bridge or neck?
I'm not quite sure, I've used it in both positions and it sounded fine.

Join date: Dec 2006
140

IQ
How much are you looking for it, and where do you live?
The guitar? I'm not set on price, but anywhere between 350 and 400 plus shipping is what I was thinking though a trade would be preffered too. I live in Minnesota by the way