tele to esquire
if i wanted to change my tele to an esquire could i just remove the neck pickup and then bypass it? i hope the image below will explain what i mean. if that doesnt work, how do i remove the neck pickup and rewire it?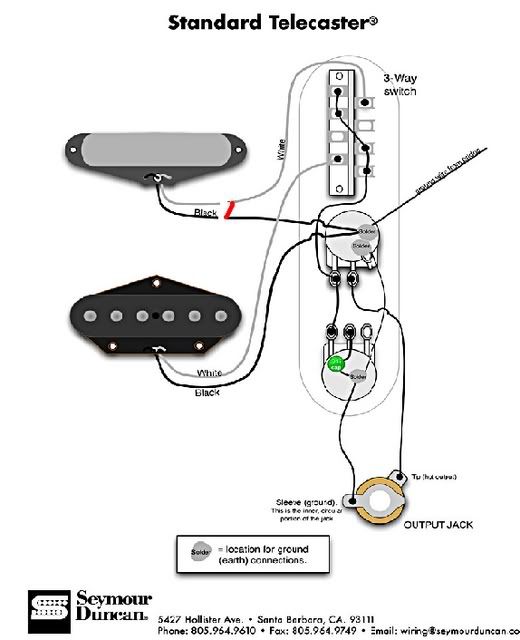 Join date: Jul 2006
50

IQ
First of all, why do you want to change it to an Esquire? All you're getting is a telecaster with significantly less tonal capabilities. I prefer the neck and middle position quite a bit more than the bridge pickup anyway.
To an extent. There are a couple other things you would need to do for it to be a real Esquire. You would mainly need to get atleast a 2 way switch (3 way for modern fender esquire switching) and have 1 position bypass the tone control, and 2 position to go pup>tone>output. But for modern its a bit different.
so if i do it like this, the three way wont work?
no, because the 3 way (as on my 74 tele) is bridg pos.=bridge pup/ mid=neck light/ neck=neck full

i think modern might be bridge/bridge & neck/ neck.

Join date: Nov 2005
10

IQ
so the giuitar will only work if the three way is in the bridge position, will the tone and vulume pots be functional?
yes, but it will just be that one tone for the whole time.....only plus i can find is you can then use the switch as a kill switch.
so i can still use the tone and volume pots right?

Join date: Nov 2005
10

IQ
That is the diagram you will need to wire your Tele to become an Esquire.

Or you could wire the bridge pickup straight to the volume knob.

Join date: Jun 2006
110

IQ
if you only have a pickup why would you need a selector?
to change it from a bassy to more trebley lead tone, but the lead tone is all i want so im gonna wire it the way i posted.

Join date: Nov 2006
151

IQ
Pickup switching on an Esquire is as follows

bridge pos. - Bridge pickup straight to volume pot and jack (Tone knob bypassed) Giving you an even sparklier, brighter sound than a telecaster bridge position.

middle pos. - "regular tele bridge position" i.e. Tone and volume knobs working like normal.

neck pos. - Tone and volume knobs both working and with cpacitors in the circuit bleeding off treble to give you a more bassy sound.

Just because it only has 1 pickup doesn't mean it's not versatile. and POS 1 and 3 you can't really get those sounds on a normal Telecaster.

So yes.. If you actually want to make it an Esquire, wire it to the diagram Will_Minus posted.