My new pedal board
Didnt take very long to put together...
Basically just a flat bed with two angled shelves at 22.5* angles, and the power brick is a cheap one I got off a random site, the cheapest I could find.
I have a boss MT-2 but I decided that wasnt picture worthy haha
I know this thing is great, but I like it and it suits me, and its something I put together on my own...but anywayz...I was thinking of making the areas where the pedals lay ontop the wood covered in a sheet of velcro, so the pedals could be places anywhere, and give it that cool fuzzy look lol
I also tried painting it with this stuff called plastidip, which is basically rubber textured spray paint, but it doesnt work especially on wood, I have some in a can that can be painted on with a brush that I have left over from a previous project, but I was just to lazy to use it...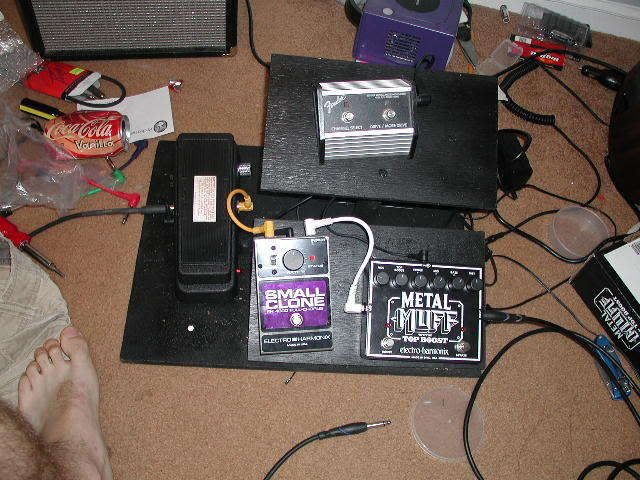 Last edited by ICANSEEYOU7687 at Jul 25, 2007,

Join date: Jun 2005
70

IQ

Join date: Jul 2007
10

IQ
Dude, that thing is crazy! It has two stories on it!!!
with 4 pedals, i dunno why youd really bother MAKING one... when i was still into the whole pedal thing i just got some of them screw and washer thingies where u can screw them onto a piece of wood.... worked pretty well... but then the whole pedal thing got too fussy
yea i just took some quick pictures, ignore the overly hairy leg, and overly messy room.

An OD pedal will prob be my next, my amps drive channels arnt that great so I went with a distortion pedal first :P

*was typing the above before I saw last post*

Well I plan on getting more pedals, and I live in a small room in college, something to keep everything nice and organized and I dont have to worry about bulky power supplies would help me clean up some of that wire clutter...

I already have a refridgerator, laptop, printer, external harddrive, lamp, and all sorts of stuff with wires back behind my desk...not to mention im not the neatest person in the world, keeping them all on one thing is somehting I desperately need, lol
Last edited by ICANSEEYOU7687 at Jul 25, 2007,

Join date: Jun 2007
260

IQ
It is pretty small.

You will need to expand it eventually.
meh I think it sounds better, If you look in the topright of the screen I bought another cable in case I wanna stretch and make it first...but I like the way it sounds behind that metal muff, it does have near as much of an impact as it does if i put it before it.

But also im left footed, haha

Join date: Jun 2005
70

IQ
Well, I do like that the power cords are out of the way.