Bridge issue
I curious as to if this is a big issue or not.

My guitar has a standard bridge built for a tremolo. No OFR etc. I just re-stringed it, but decided I wanted to go a gage up from .09 to .10. It seems the bridge is being pushed up from tension. Is there a way to make the bridge go back down, or is it normal.
yeah just tighten the screws in the back trem cavity. or add an extra spring if u find the guitar keeps falling out of tune easily.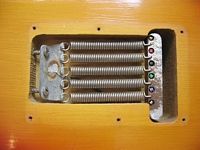 has 3 springs.. I don't think I want to go for 5.. lol :P

Tightening the screws lowers the pressure? Hmm.
tightening the screws pulls the bridge flat. and when i said if that doesnt work then you can add a spring, i meant 1, meaning 4 total.
Check.