I'm back from my trip to Philmont! (and ban)

Join date: Apr 2006
86

IQ
Yeah, so there will be many of you who won't care, but I'm posting this because I said I would about a month ago.
original thread:
https://www.ultimate-guitar.com/forum/showthread.php?t=628249
It's funny cause on the day we left for the airport, I got my first ban. Therefore, it only felt like a 15 day ban cause I was gone for the first two weeks!
Anyways, heres our "historian's" journal report. He wasn't the brightest kid in the crew, but we had to give him
some
job, and we didn't want to trust him with the role of firebuilder or navigator. Again, only those of you who've been to Philmont will fully understand.


Day 4 Boarded the bus for trip to NM (Philmont). Once at Philmont, we made a pack line and then met our really cool ranger named Onion. We ate a nasty lunch of hot dogs with stale buns. Then we put our stuff in our tents. We went and checked out the Philmont trading post. Supper was better – sloppy joe with chicken. Opening campfire where everyone learns about the history of Philmont was after dinner. Then we went with Onion to the food area to get ice cream. There was a hot girl working that night.



Day 5 (Trek Day 1) – We shoved all our valuables that are not going on the trail into a tiny locker. We got on the bus with our heavy packs and Onion to be delivered to the back country. Onion reviewed all the things we needed to know while we are out there ( Bears, Snakes, Mountain Lions, etc) We hiked to the T-Rex footprint (which is the only one in the world) We took pictures and then left for our campsite. Once there, the skies were very dark. So we tried to set up quickly. But we didn't do fast enough. Right after we got our rain fly down, it started pouring rain. So we put our raingear on. However, we didn't think it was going to rain that hard, so most kids did not put on the rain pants and we got soaked. Then the hail came. It was dime sized hail and it hurt when it hit us. We hid behind rocks. After the storm, all of gear that was under the rain fly had mud on it. Our food bags had mud inside them too. Long evening of cleaning was next.



Day 6 (Trek Day 2) – After backpacking for about 45 minutes, we arrived at the Indian Writings. We got a porch talk and they took us to our campsite. We set up all our gear and then went back for our tour of the Indian artifacts. We looked at the burial sites and petroglyphs. We went back to our campsite and fixed dinner.


Day 7 (Trek Day 3) – We walked about 3 miles to Ponil where we got our boots and hats branded. They took us to our campsite. We ate lunch and then hiked up about 1 mile to do our conservation project. We had to widen the trail for future horse traffic. Nathan and Richard left the project early so that they could help cook for the Chuckwagon meal. Everyone came to the meal and enjoyed the good meal of bread and beef stew. That everyone thought that it was fresh but it was really out of a bag. For dessert, we had peach cobbler. After dinner, we went to the Ponil Cantina show and also drank draft root beer. One of the characters was cross dressing to be a girl (?Name?). It was a funny show – enjoyed by everyone.



Day 8 - (Trek Day 4) – The adults made us breakfast – pancakes and sausage. Then we went and picked up our burro named Lee. We learned all the knots and special ways to tie up the burro to carry our stuff. We headed out to our next stop. Lee ran Nathan into a trail sign. We camped at the Continental Tie and Lumber Co. We first went and climbed the big pole. Everyone made it up. After supper, we saw a campfire show where Nathan made fun of a guy with a washboard.



Day 9 – (Trek Day 5) – Lee was not interested in carrying our stuff this morning. So we tried to bribe him with pineapple chunks. He started running and his ears went back. Everyone chased after him. The poor soul named Kevin was running about 5 feet behind Lee (in the kick zone). Therefore, Kevin got kicked in the leg. He got a pretty big bruise shaped like a burro shoe. We applied ice but he then went into shock. Being a trooper, Kevin continued on the trail. We backpacked on a road to Miranda. Here we dropped off Lee with his burro buddies – never to see him again. We walked through this cool field lined with aspen trees towards the staff cabin. The French Canadian staff member taught us about the rendezvous and beaver trapping. Then we went to black powder shooting where the staff members called everyone "Bob." And the first person that they called "Bob" was the real "Bob" – Mr. M. Everyone got to shoot whatever they want to sacrifice to the lead balls of fury. Brandon put a playing card up on the target and the staff member shot it.



Day 10 – (Trek Day 6) – We did not have to pack up today. We just used the same campsite. We left @ 5 AM for Baldy Town. From there, we started our ascent up Baldy Mountain. It took us 3 ½ hours to reach the top. The last part of the climb was very steep. We had to stop and rest every 20 feet. At one point, the kids decided to run up. Others were cheering us on. But then, we had to rest for 3 minutes. At the top, we took tons of photos and rested a while. It was 40 degrees at the top. The kids and Mr. XXX decided to take a shirtless picture. When at the top, we were only about 10 to 15 feet below the clouds. On the way back down, we went on a crazy zig zag trail that was made of rocks. It was extremely steep. Coming down the middle of the rocky valley, we heard of the sound of a stream. After investigating the sound, we found out that it was an underground stream. Then we went to the mines and panned for gold. We also learned to blacksmith. We made a J hook that you could hang on a wall.

Day 11 (Trek Day 7) – We arrived at the Head of Dean and began of Challenge Events. We had to untangle ourselves from the Human Knot. We had problems with this. Suddenly, we noticed that Onion was standing by a tree watching us. We had to pull our whole group over a 12 foot high wall without talking to each other. The first time we did it, we didn't it right. The second time we were successful. Next, we tried the spider web where you had to go through web of rope. Mr. XXX also broke his behind trying to rope swing across an area with a nalgene bottle. Afterwards, Onion took us back to the campsite and gave us Zebra cakes because he liked us better than his last group.



Day 12 (Trek Day 8) – At 2 AM, we went out into the field to look at the stars. We saw the Milky Way and tons of shooting stars. Later that day, we went on the Santa Clause Route instead of the other trail. We ended up seeing three bear cubs and one big mama bear. At the campsite, we just kinda chilled. It rained and we played cards.



Day 13 (Trek Day 9) – We decided to rock climb earlier in the day to avoid the afternoon rain showers. Everyone except Craig rock climbed. Rappelling was more fun. The staff members had a cool saying "Dude on Rock, rock on dude" Ryan got up the hard side of the rock wall the fastest. After dinner, everyone went and played volleyball with the staff members. Then we went rock climbing again.



Day 14 (Trek Day 10) – We were in south country today. It was really hot. There were lots of cool cactus to see. We went into Harlon and got our porch talk. In another cabin, they showed us how this machine could reload shotgun shells. Afterwards, we shot off the shells we had reloaded. Most people did okay at shooting.



Day 15 (Trek Day 11) – We sat around at our pickup site for about 1 ½ hours waiting for the big yellow Philmont bus. We played games while we waited. The bus driver took us through fields on small dirt roads doing about 45 miles per hour. She had a funny air freshener that had written the words "Essence of Fresh Scouts." When we got off the bus back at Philmont, we yelled "we made it!!!!" All the newly arrived scouts just stared at us. Onion came running for us. After we checked back in, we grabbed our personal cleaning supplies and headed to the showers to wash off days of dirt. Before dinner, everyone spend tons of money at the trading post. We all got Philmont belts. Later that night, we had a closing campfire.


Day 16 – We packed up all our belonging and ate our last delicious Philmont meal before heading out on the bus back to Colorado Springs. We stopped for a second time at the Country Buffet for lunch. While we were there, Kevin ate a pepper that he though was a jalenapo but it wasn't. He dared me to eat one too. So, I took a bite and it was pretty. It felt like a never ending burn so I drank 3 cups of milk to kill the burn. The milk didn't help but eating chicken helped a lot. Kevin never got an relief from the burn. It was too hot for him. He ended up hurling. We dared Mr. XXX to eat the pepper. He did and he was fine. On the bus, we watched two movies. One movie was a tacky action movie called "The Marine." At Colorado Springs, we checked up and several of our knives were confiscated by security. The flight to Dallas was delayed by 45 minutes.
And now pics cause it did happen:
the bears we saw: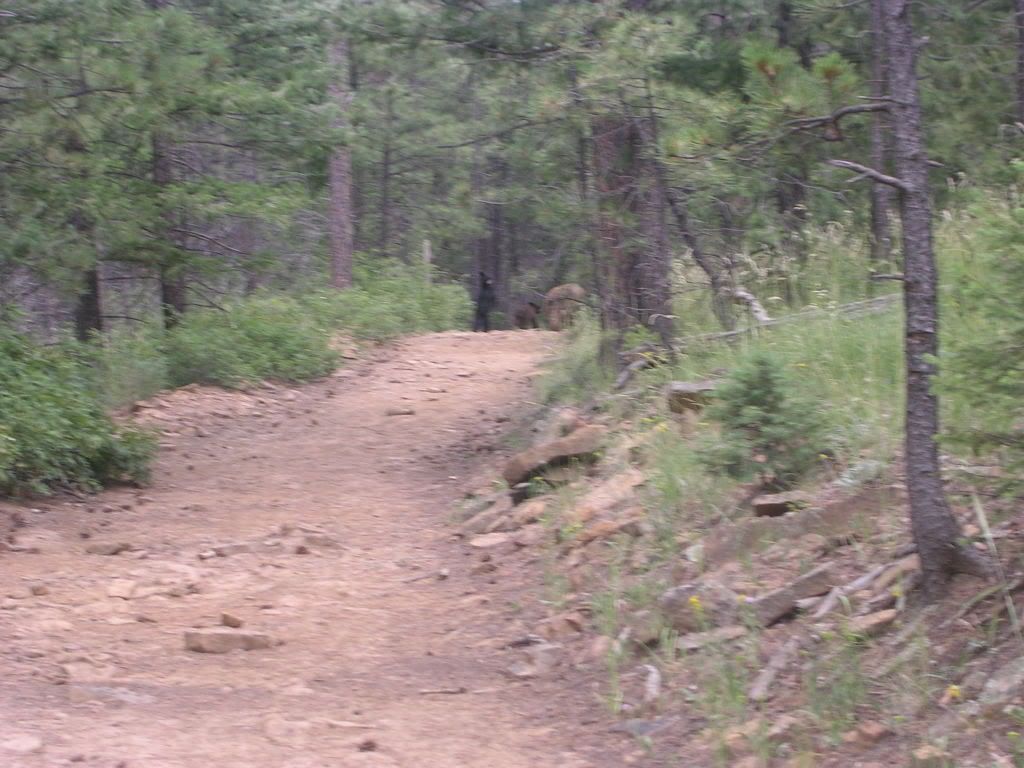 Baldy Mountain, highest peak on the ranch at over 12000 feet: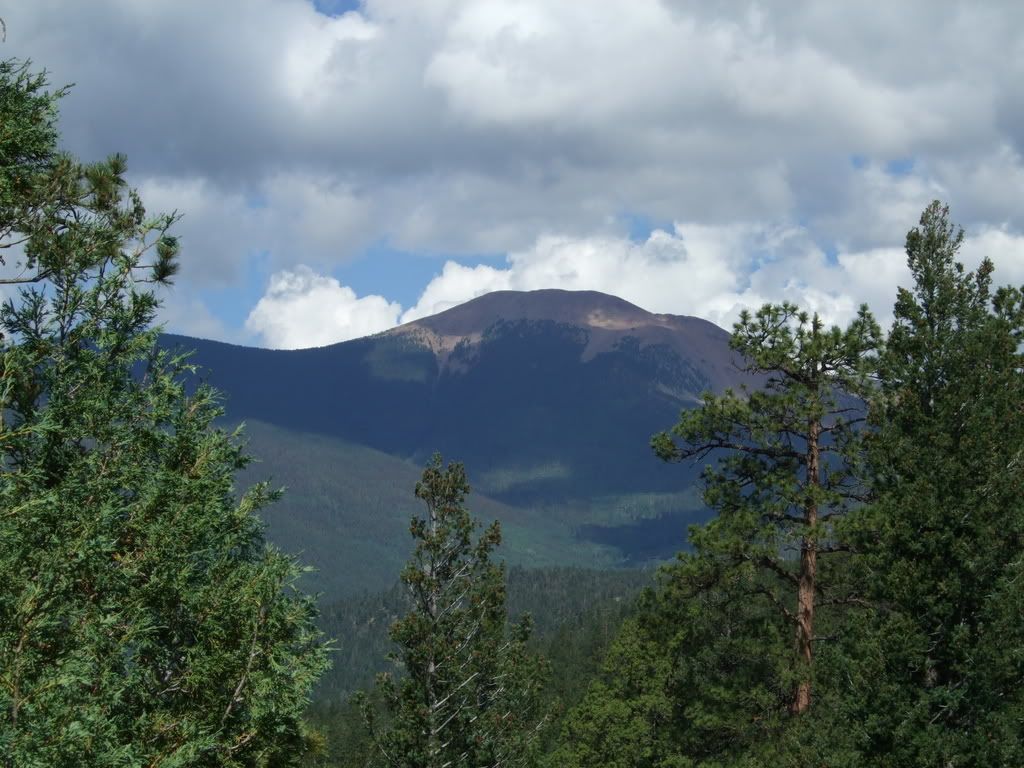 our crew on top of baldy, after climbing it. No, thats not me on the far right.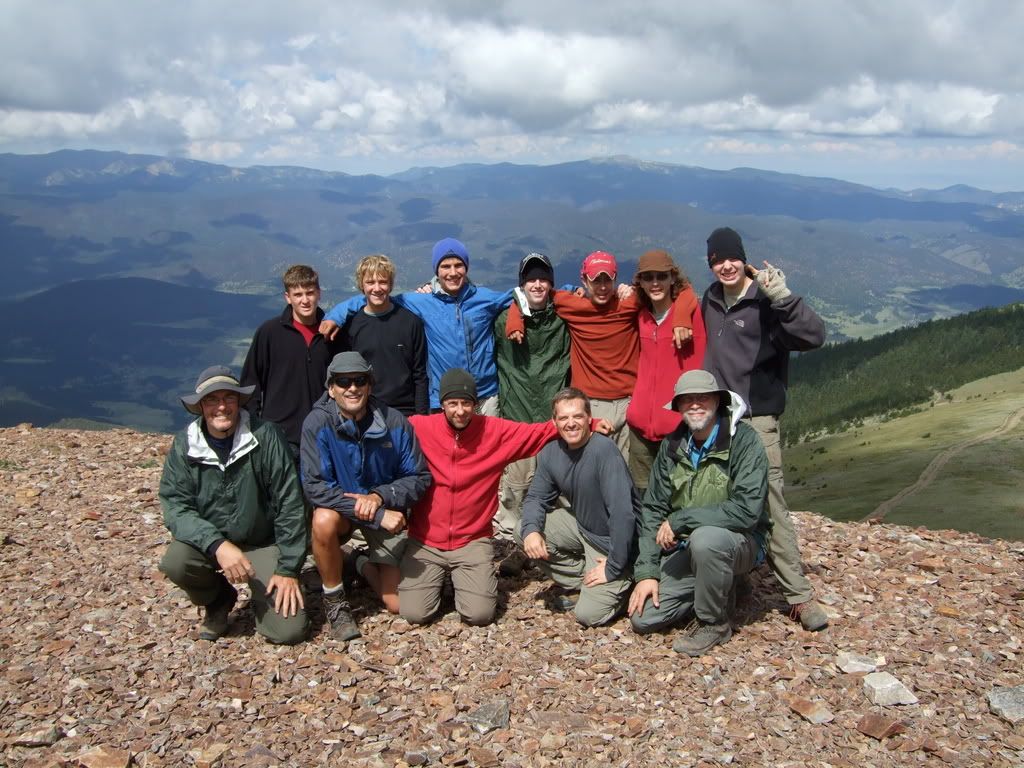 Overall, it was a great time and I encourage any of you who are in scouts to do it.

-TFS
Last edited by thefoldarsoldar at Aug 14, 2007,

Join date: May 2004
60

IQ
Oh, you lucky bastard! I haven't been to the camping mecca in ages!

Join date: Jul 2006
10

IQ

Looks like you guys had a great time!
that looks sweet out there good to see you had fun

Join date: Jul 2006
10

IQ
what trek did you do? I went earlier this summer on trek 28, we did over 100 miles.

Join date: Apr 2006
86

IQ
what trek did you do? I went earlier this summer on trek 28, we did over 100 miles.

......trek 5.....like 60 miles.
My first time though.