Stevie Ray Vaughan: His Rig
Stevie's Guitars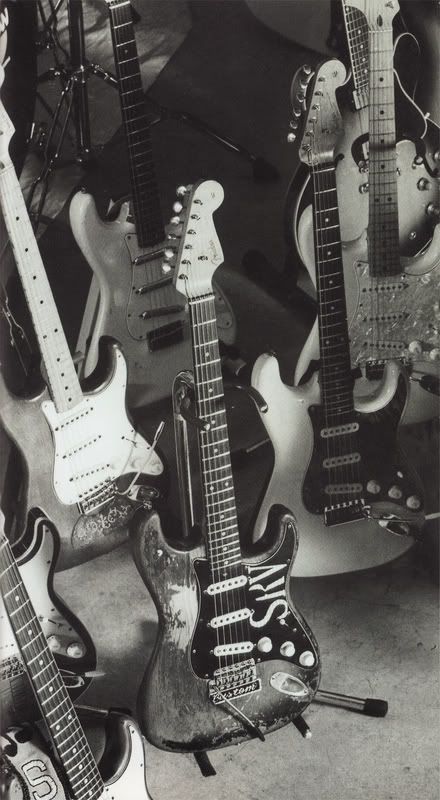 Fender Broadcaster - a 1952 model handed down to Stevie from Jimmie. Stevie practiced and performed a little with this guitar around 1966.
1954 Les Paul TV model - Stevie began performing with this guitar around 1968. He continued to use this guitar throughout his time with Blackbird.
1952 Les Paul Gold Top - Stevie also performed with this guitar around 1968 with Blackbird.
Unknown Black Strat - This guitar was used quite a bit by Stevie before he aquired Number 1. The guitar has "SRV" in small gold writing on the upper horn and a maple neck. Lots of early footage of Stevie, most notably his performances at Antone's, show this guitar quite a bit. This is possibly the 1963 maple necked Strat that was traded for Number 1 in 1973.
Kay Barney Kessel - purchased in 1972 and stolen in 1975
1948 Airline 3 pickup model - rarely used.
"Number 1"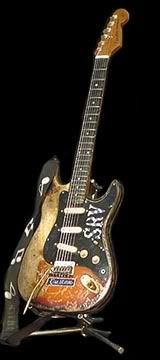 "Number 1" - There is so much to say about this guitar. This is the one everyone geeks out over, even though he played Charlie, Scotch and Main almost as much as Number 1 over the course of his career. You can really see SRV's setup reflected in all of his guitars, but generally the only difference between Number 1 and the rest of his guitars are as follows; he used heavier strings on Number 1 and Number 1 had a round-lam fretboard instead of a slab board. Also, the fretboard was quite thin after several refrets. The pickups were always stock and were never rewound (this has been noted in several interviews with Rene Martinez). By 1990, the only original parts on Number 1 were the body and the pickups...all other parts were replacements off of other vintage strats or brand new parts. Stevie acquired Number 1 in 1973 after spotting it in Heart of Texas Music in Austin. He traded his 1963 Strat in for the sunburst model. Rene Martinez also notes in several interviews that it was a rather odd, cobbled together guitar. The body was stamped with a 1962/1963 date (the date changes in several Martinez interviews, but remains consistent to those two years), the original neck had a 1962 date written on it, and the pickups were marked as 1959 models). There is no proof or documentation that the pickups were ever re-wound, but the legend says they were overwound either from the start or from a factory rewind before Stevie acquired the guitar. The guitar originally had the common three-layer white pickguard (see pics on this page), but that was soon changed to the signature black pickguard with the SRV initial decals. The decals were changed often. The vibrato unit was replaced sometime in 1977. Rene Martinez has been quoted as saying the only reason a left-handed trem was used was due to the fact that they could not find a right hander in time for an important show, so a lefty was swapped in at the last minute. The "Custom" sticker in front of the bridge was an effort to hide the hack and slash job the guitar underwent to fit the new tremolo. Number 1 is the only guitar in Stevie's collection that has a lefty vibrato. Stevie typically used 4 or 5 springs on the unit (most pictures show 5) and kept the pivot plate flush with the body. Number 1 had unusually large frets as well. Rene Martinez confirms that they typically used Dunlop 6100 fretwire, but they used bass fret wire for at least one refret due to the fact that normal fretwire could not be found quickly enough.
From Dan Erlewine's interview with Rene Martinez in 1989
Nut - Standard Bone
Neck Relief - .012" at the 7th and 9th frets - level for the remainder of the board
Strings - GHS Nickel Rockers, .013, .015, .019, .028, .038, .056
Fretwire - Dunlop 6100
String Height at 12th fret - 5/64" for the high E, 7/64" for the low E
Fretboard Radius - Compound, approx. 12" radius from 12th fret up
Vibrato Unit: Fender vintage-style, left-handed, not original. Stainless steel replacement bar. Lubricated with graphite/grease mixture at pivot plate; all string contact points, including saddle peaks; block and claw; nut; string trees
Saddles: Fender vintage-style, not all original. All edges that contact strings are ground smooth and radiused. Plastic tubing slipped over strings and positioned over saddle "break points"
Pickups: Original Fender single-coil, rewound. Pickup body routing painted with metallic shielding paint. Pickup heights, measured to polepieces from straightedge laid on frets:
Treble side - bridge PU 0", middle PU - almost 0", neck PU - 1/16"
Bass side - bridge PU - 1/32", middle PU - 1/16", neck PU - 1/32"
Early pic of Stevie playing Number 1 with a white pickguard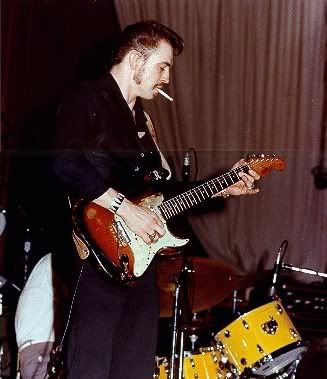 "Main"
"Main" - First things first, this guitar is not a Fender. This instrument is a custom Hamiltone guitar built by James Hamilton. The instrument was custom built to order by Billy Gibbons and given to Stevie as a gift from the ZZ Top front man in 1984. And this is also the guitar that got rained on during the making of the Couldn't Stand The Weather video. The instrument features an ebony fretboard with Stevie's full name inlaid on it, a flamed maple top and back with cherry sunburst finish, and a bound alder body with no little contour. The most unique feature...neck-through body construction and a 26 1/8" scale length. The guitar originally had EMG pickups and an onboard preamp (as seen in the Couldn't Stand The Weather video), but the electronics were removed afterwards for two reasons. One, Stevie hated the tone of the electronics and two, the electronics were ruined during the filming of the music video (water and active preamps don't mix). To see the guitar in action, check out Stevie's "Voodoo Chile" performance during the 1985 Montreux Jazz Festival. Custom-built replicas are available from Jim Hamilton, but they will cost you.
"Charley"
"Charley" - A custom built Strat style guitar put together by Dallas guitar shop owner Charley Wirz. The guitar features a hard tail bridge, two controls (volume and tone), Danelectro lipstick pickups, an ebony fretboard and a white headstock to match the body color. The finish also has a pearl top coat that makes the guitar appear as if it is changing color depending on the viewing angle. The wiring is not the typical 5 way Strat setup, but rather an unknown custom wiring configuration devised by Wirz. The neck plate has "To Stevie, More in '84" engraved on it and the back of the guitar has a girlie pinup on it.
Charley's back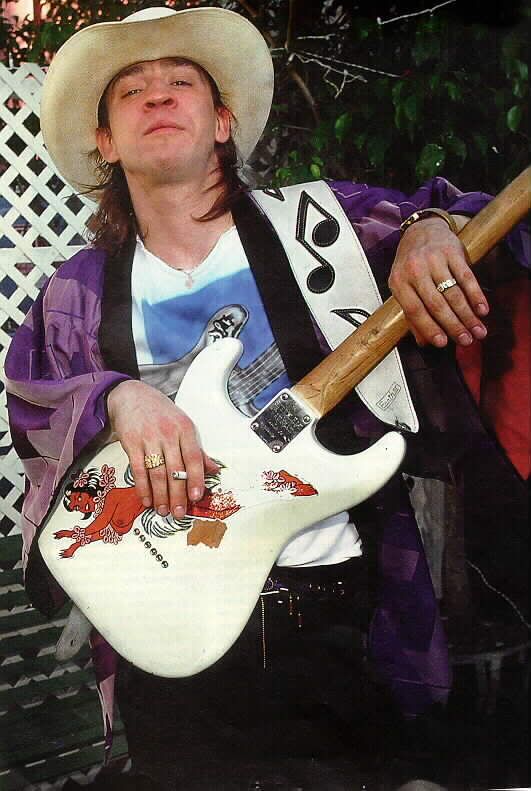 The guitar was used to record Couldn't Stand The Weather, Tin Pan Alley and Life Withou You, which was Stevie's tribute to Charley after his passing in 1984. The guitar was also used on stage quite a bit and was used for the majority of Stevie's 1985 Montreux performance (in fact, Number 1 wasn't number 1 for this show...Charley and Main both had far more exposure at this show than Number 1). In 2003, Rene Martinez and the staff at Charley's built 23 replicas of this guitar and sold each for $2500. Current owners of the replica instruments include Carlos Santana, John Mayer and Kenny Wayne Shepherd. Ten more copies were built in 2005, but these guitars do not feature the Charley's logo on the instrument.
"Lenny"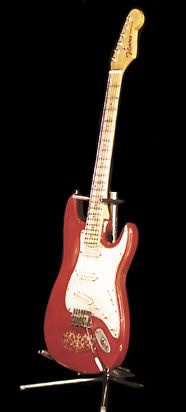 "Lenny" before the maple neck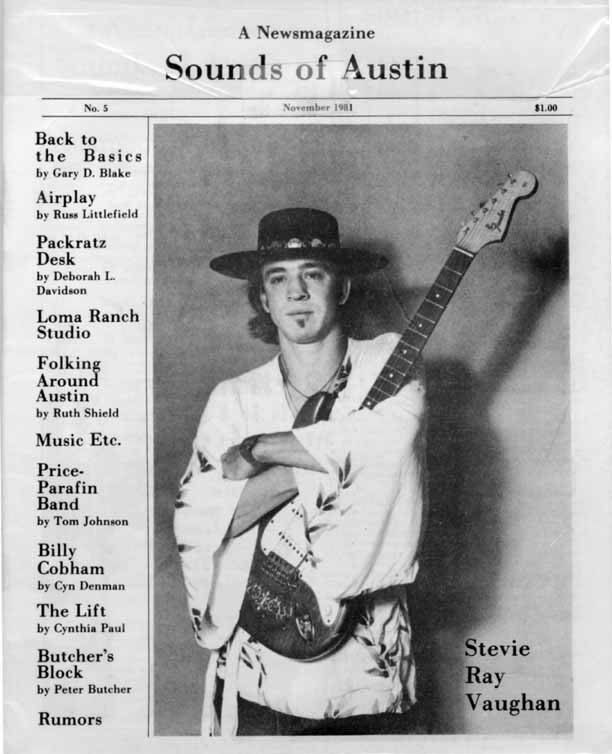 "Lenny" - Named after Vaughan's first wife, the instrument was purchased at a pawn shop by SRV roadie Byron Barr and shown to Lenny Vaughan. Lenny presented the guitar to Vaughan as a gift, planning to pay Barr back at a later time. Stevie later had to repay the debt himself in cash and a leather jacket. The guitar features an odd decal (added by Stevie around 1986) forward of the tremolo, stock hardware, and a non-Fender maple neck suposedly given to Stevie by Billy Gibbons. The tremolo was set up for full-floating action and used lighter gauge strings and only four springs on the tremolo. The pickups remained stock and were microphonic. The guitar was commonly used on stage for Lenny and Riviera Paradise. The instrument sold for $623,500 in 2004 as part of the Crossroads Guitar Auction and stands as the only SRV guitar to be sold to the public.
"Scotch"
"Scotch" - Sometimes called "Butter" and "Butterscotch", the 1961 Stratocaster is yet another guitar assembled from various parts. This instrument was pieced together by Rene Martinez in the fall of 1985 and features a custom made red/black patterned pickguard and a custom neck with an ebony fretboard. This guitar was often used as a backup for Number 1, but eventually became a full-time favorite and took the place of Number 1 when that guitar began to have severe neck issues. The neck features a brass nut. Sometime in late 1989, Stevie swapped the neck from Scotch onto Number 1 and placed a left-handed neck on Scotch. It is reported that Number 1 didn't make many (if any) tracks on the In Step record due to neck issues, as this instrument was the primary guitar used during those sessions along with Red. See Stevie's 1989 Austin City Limits performance of "Look At Little Sister". Stevie begins the song with Number 1, but breaks a string half way through the solo. He finishes the solo without a B string, and after the solo his guitar tech runs out and helps him quickly put on Scotch to finish the song.
Last edited by TwoString at Aug 22, 2007,