I need to find this gif

Join date: Feb 2007
10

IQ
You know that .gif with the guy who randomly kicks this old lady in the head and knocks her over, and the other guy at the table looks over and says "pwnt"? Well I need a link to it.
That is way beyond awesome.
OMFG that guy who kicks the lady looks like my uncle in the 80s
i love that picture...

What is that from, exactly?

Join date: Apr 2007
10

IQ
lol I like the one where the guy who kicks the lady is Leonidas

Join date: Mar 2007
10

IQ
Looks like Burt Reynolds lol.

Join date: Apr 2007
10

IQ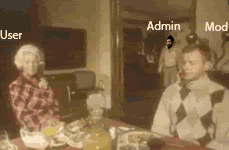 there ya go