Double New Guitar Day for me, woot
Well technically it was yesterday, but I didn't have my camera with me. They are the Ibanez AF105f hollowbody, and probably more interestingly to folks here, a kind of mysterious USA Charvel that apparently used to belong to Randy Piper of W.A.S.P.
Without further ado...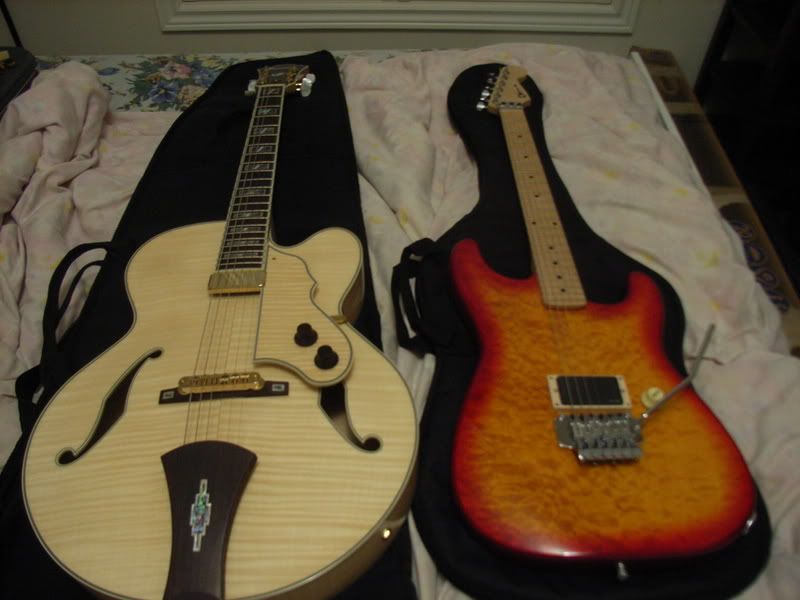 They both play great, I have to get the jazz box strung up with some flatwounds though, as roundwounds just ain't right for the job. I'm also very impressed with how awesome the Charvel sounds. Very resonant unplugged too, just vibrates right out of your hands.


Join date: Jun 2005
121

IQ
Those sexier Artcores sure are freakin' sexy

.
Wow man!
Congrats!!

SEXY GUITARS ARE SEXY.


yup yup.

Join date: Oct 2005
312

IQ
Excuse me I just came a little.... Damn those sexy guitars...

Join date: Jan 2007
10

IQ
I'm digging that Ibanez a lot. I have a similar jazz box, but yours just looks delicious.
wow, very nice score, grats brotha


Join date: Dec 2004
80

IQ
Awesome! Charvel + Splawn, that'll sound amazing.
The hollowbody is really sexy too. I love the natural finish.